Start of main content.
Green Mountain Power Middlesex Dam Anchors and Resurfacing
Securing the future of a 100-year-old dam.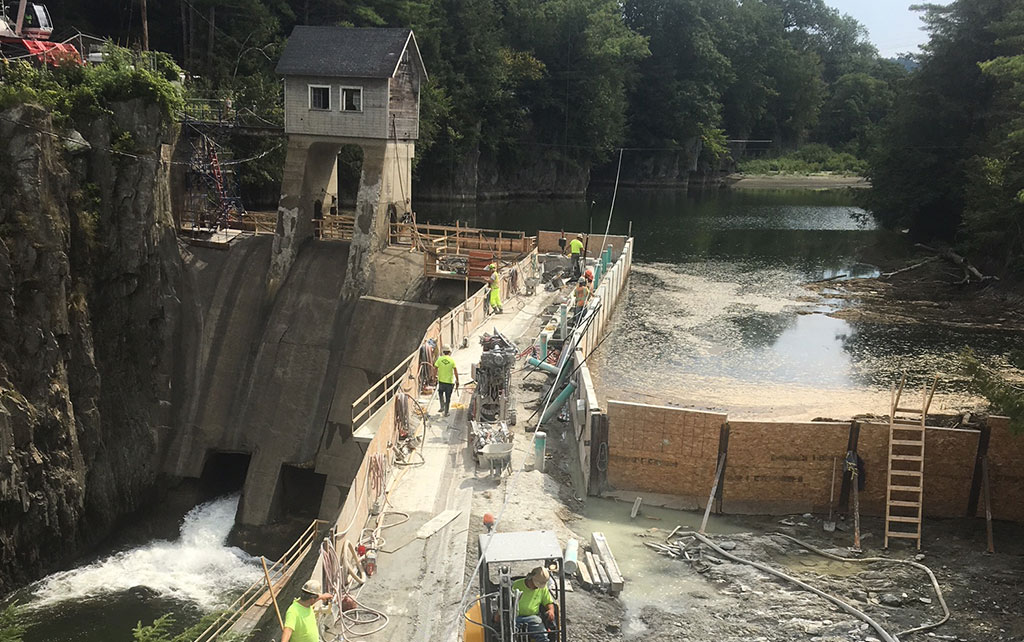 Location

Middlesex, VT

Delivery Method

CM at-Risk

Market

Client

Green Mountain Power

Year Complete

2020

Region
Project Overview
This project, completed by PC's Special Projects Group, involved the installation of 19 post-tensioned rock anchors drilled into the concrete dam and adhered to the bedrock 50 to 80 feet below. The anchors were grouted in place and then post-tensioned and secured with additional grout to ensure the long-term stability of the 100-year-old dam.
Work also included the demolition, removal and replacement of over 6,000 square feet of deteriorating concrete along the crest and downstream face of the dam; safety upgrades to allow GMP workers to safely access the dam for maintenance and inspections; and replacement of the nearly 100-year-old gate house roof located 70 feet above the river.
THE PC / GMP HISTORY
PC's four-decade collaboration with Green Mountain Power began with the construction of the Bolton Falls Hydroelectric Plant in 1985. Today, our Special Projects Group continues to provide key construction services on over 200 contracts in Vermont, New Hampshire and New York.
Recognition
AGC Vermont Best Builders Award
6,000
Square Feet of Concrete Resurfacing
283
Linear Feet Underwater De-icing System Installed
Our Clients
GMP has very specialized needs and complex infrastructure at our many sites across Vermont, New Hampshire and New York. PC has been instrumental in our ability to keep up with the ever-changing needs of our industry over the past two decades, delivering exceptional service and top-notch quality construction every step of the way.