Start of main content.
Green Mountain Power Peterson Hydroelectric Plant Modernization
Achieving success through unprecedented times.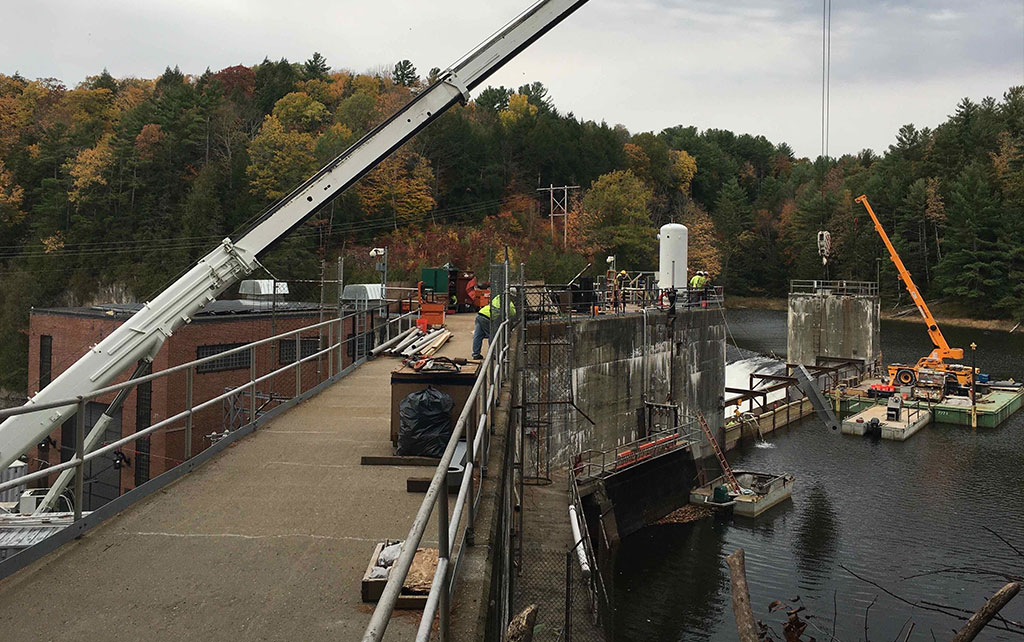 Location

Milton, VT

Delivery Method

CM at-Risk

Market

Client

Green Mountain Power

Year Complete

2020

Region
Project Overview
PC's Special Projects Group completed a complex upgrade to GMP's Peterson hydroelectric plant through the onset of the COVID-19 pandemic. Work initially included abatement, removal of aging electrical switchgear and disassembly of the generator for shipment to Canada for refurbishment. HVAC, electrical, architectural, and safety upgrades were completed within the plant, as well as nearly two months of continuous in-situ machining within the turbine assembly.
The second phase of work included the replacement of a 100-foot-long hydraulic-operated steel Bascule gate. Installation was performed behind a cofferdam from a floating barge.
Once back online, the plant began achieving all-time high levels of efficiency and performance.
THE PC / GMP HISTORY
PC's four-decade collaboration with Green Mountain Power began with the construction of the Bolton Falls Hydroelectric Plant in 1985. Today, our Special Projects Group continues to provide key construction services on over 200 contracts in Vermont, New Hampshire and New York.
40
Ton Generator Rotor Assembly
38
Ton Hydraulic-Operated Bascule Gate Installed
Our Clients
GMP has very specialized needs and complex infrastructure at our many sites across Vermont, New Hampshire and New York. PC has been instrumental in our ability to keep up with the ever-changing needs of our industry over the past two decades, delivering exceptional service and top-notch quality construction every step of the way.