Start of main content.
Highgate Falls Rubber Bladder Replacement
The largest inflatable bladder in the U.S.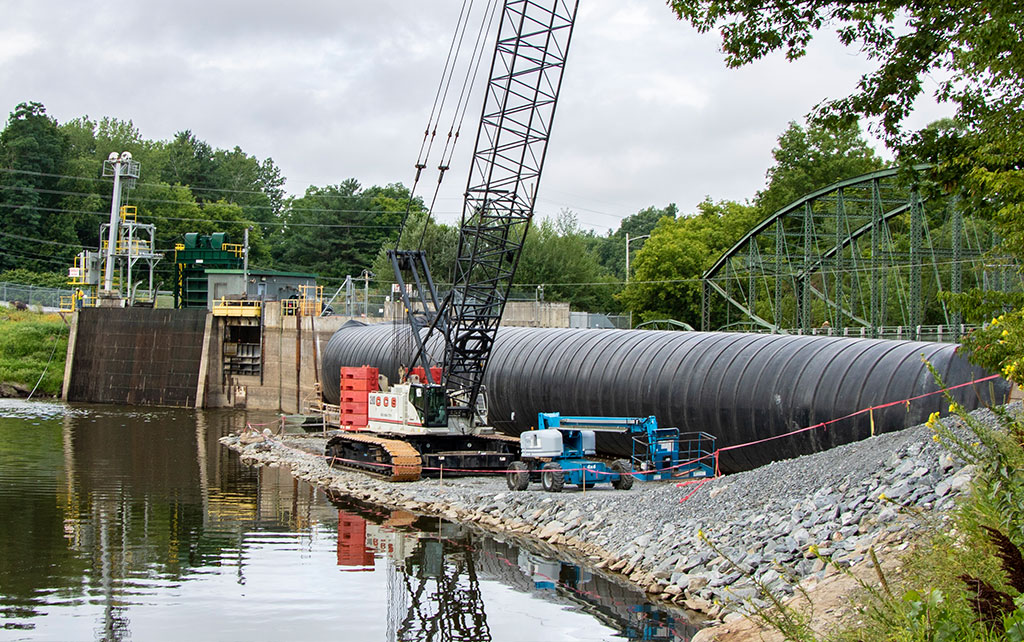 Location

Highgate, VT

Delivery Method

CM at-Risk

Market

Client

Village of Swanton

Year Complete

2018

Region
Project Overview
PC's Special Projects Group completed this unique dam replacement at Vermont's Highgate Dam when the existing bladder, which was also installed by PC in 1992, reached the end of its lifespan. The dam, located on the Missisquoi River, is part of a municipal hydroelectric plant which provides 55,382 MWH of power annually.
The new inflatable bladder, which is the largest of its kind in the United States, is 267 feet long and 57 feet wide, and weighs 47 tons. The new bladder had to line up with the 576 existing anchor bolts on the dam's concrete surface. To ensure precise placement, the bladder was laid flat to allow PC to work with a surveyor to pre-drill the bolt holes along the bladder's edge. It was then folded for transport to the dam six miles away where it was aligned bolt-by-bolt for final installation.
Work also included the construction of an access road to the river and removal of the existing bladder.
55,382
MWH Annual Power Provided by Dam
576
Existing Anchor Bolts Aligned with New
47
Ton New Inflatable Dam Bladder