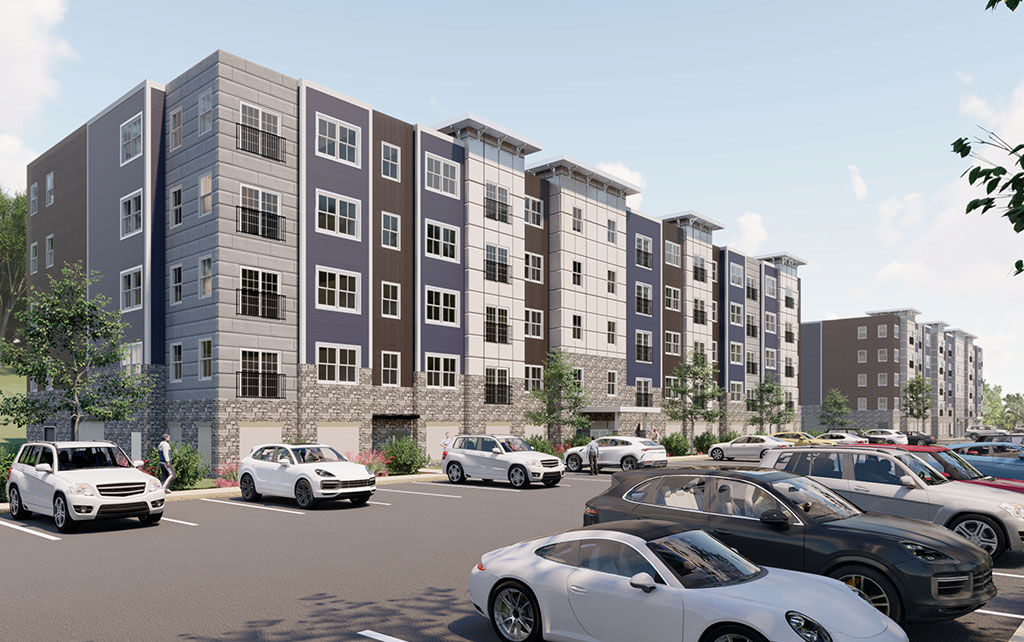 Large apartment complex and wastewater treatment upgrades allow for smart growth
Manchester, NH – PC Construction has begun work on two major projects in New Hampshire: a new residential development in Merrimack and an upgrade to the wastewater treatment plant in Manchester.
The Edgebrook Residences project in Merrimack will deliver 232 new apartments for one of the largest bedroom communities in the state. The $43.1 million development includes the construction of four individual five-story residential buildings with parking garages. The plans also include a 5,000-square-foot clubhouse, featuring community space, a leasing office, exercise and yoga rooms, and a cyber café. This is PC's second project for SMC Management Corporation, following the successful Mill240 project in Lawrence, Massachusetts, which was completed in 2019.
PC has also begun work at northern New England's largest treatment plant in Manchester. With funding from the New Hampshire Department of Environmental Services' revolving loan fund, the $19.6 million Manchester Wastewater Treatment Facility Solids Train project will result in substantial upgrades to the facility, including modifications to sludge processing equipment, a new vactor truck receiving station, and exterior odor control piping and supports. These improvements will allow for cleaner and more efficient wastewater treatment for the state's largest city. Work is scheduled to be completed by June 2023. This is PC's second project at this facility.
Said PC President and CEO Jay Fayette: "We are excited to begin work on these projects, which are both great examples of PC's ability to manage significant infrastructure and development work that helps communities grow responsibly. In both cases, the owners have come back to us after successful work in the past, and we are grateful for their continued partnership. We are committed to growing our Manchester regional office and PC's New Hampshire employee-owners are excited to be working close to home."
Top: Rendering of the Edgebrook Residences project in Merrimack. Bottom: Work in progress at the Manchester Wastewater Treatment Facility.