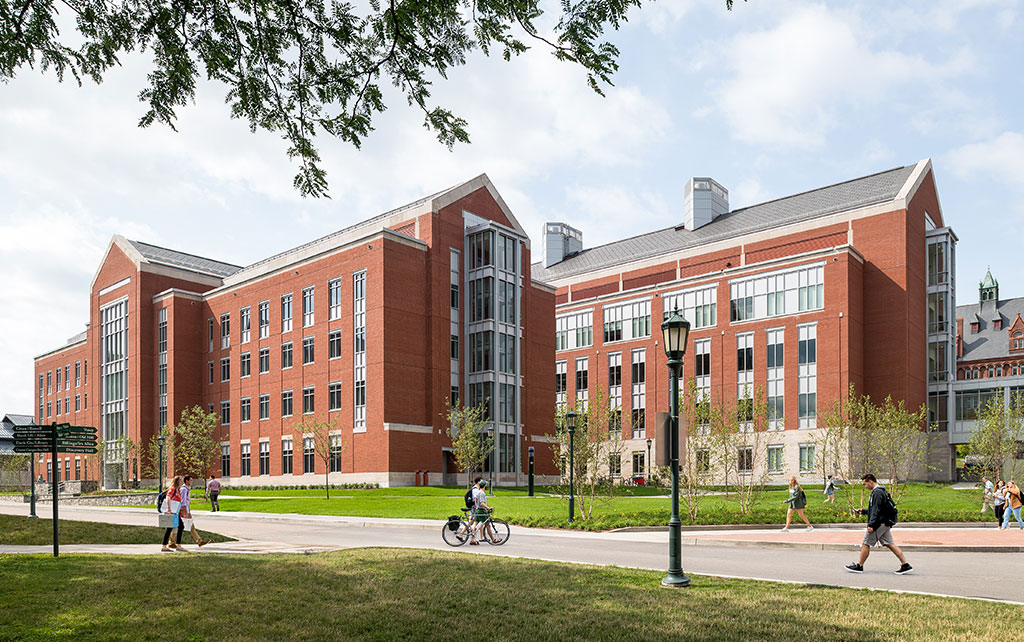 South Burlington, VT – PC Construction announced today that it was named the winner of the 2020 ENR New England Best Projects Award in the Best Higher Education/Research category for its work on The University of Vermont's new science, technology, engineering and mathematics (STEM) Complex, which was completed in August 2019. Only 17 projects were selected from all of New England as winners within 11 categories.
This is the second high-profile award PC has received this year for the UVM project; it was also honored with a national Build America Award from the Associated General Contractors (AGC) back in March. Approximately 20 of these highly esteemed awards are granted each year.
PC Construction was the general contractor for the $80 million project, which involved the demolition of two existing buildings and the construction of two new buildings in the center of a busy university campus. The project, which took place in three phases over four years, replaced a 1960s-era lecture hall and an aging five-story science building with an 111,000-square-foot, state-of-the-art teaching and research laboratory building and a 73,000-square-foot modern classroom and office building. The new facilities include 34 teaching and research labs, advanced physics labs and clean room spaces.
Despite its highly technical and complex nature, the project recorded an exceptional safety performance over the course of four years.
"These new facilities will support critical scientific research at UVM, and the new complex will play a key role in addressing the acute need for STEM education and industry in the State of Vermont," said Jay Fayette, President and CEO of PC Construction. "This project was particularly meaningful to us because we were able to make a multi-generational impact on the education of UVM's student body as well the potential for significant follow-on opportunities and economic development in our home state. We're honored to have been selected by UVM to construct this project, and profoundly honored to have been recognized for our work."