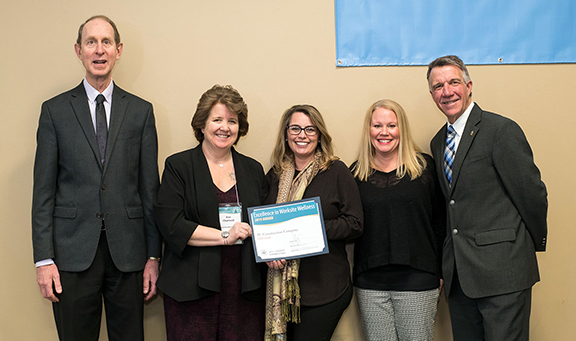 On March 21, PC Construction was the recipient of the highest honor bestowed by the Vermont Department of Health and the Governor's Council on Physical Fitness and Sports – a GOLD level Governor's Excellence in Worksite Wellness Award. The award was presented at the 2019 Worksite Wellness Conference on March 21.
The award recognizes Vermont companies for their onsite efforts to promote physical fitness and a healthy work-life balance.
At PC Construction, we encourage a healthy lifestyle for our employee-owners. We engage with Marathon Health to provide onsite health and wellness services and engage our team to make healthy choices while providing support when they need it most. PC Construction offers the following services and activities as part of our overall wellness program:
Onsite Nurse Practitioner
Biometric Screenings
Comprehensive Health Reviews
Health Coaching
Health and Wellness Challenges
Awards-Based Health Activities
Stretch and Flex Program
Exercise Classes
Onsite Gym
Team Community Events
The results are tremendous. In 2018 alone, 86% of insured employees were screened for a risk factor. Nearly 300 employees identified and worked on a health goal to improve their wellness score, and over half successfully completed their goal within that one year.
While we continue to provide programs and an environment supportive of employee health, we are most proud of the actions our employee-owners take to improve and maintain a positive, healthy lifestyle.