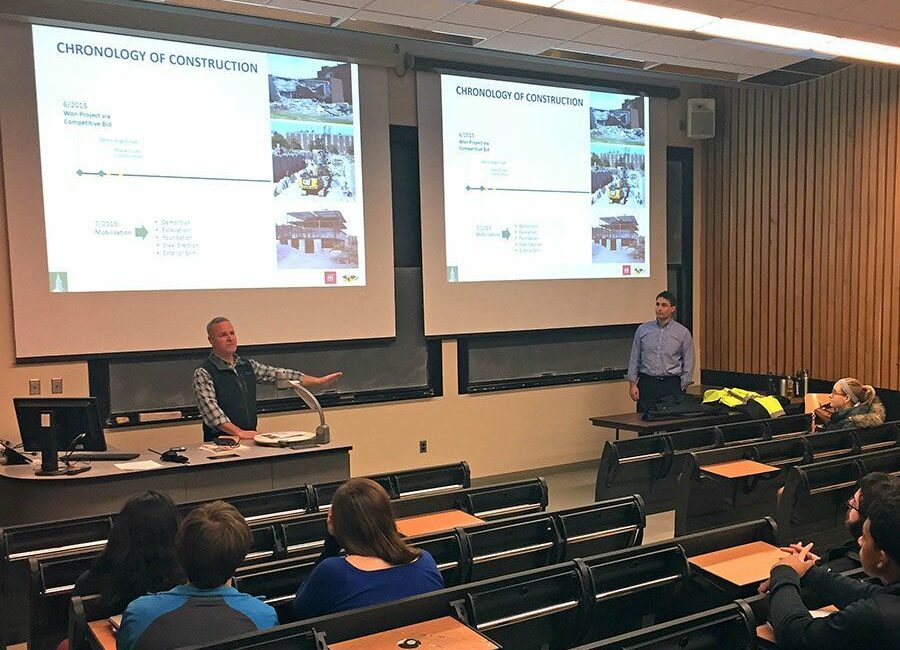 When situated inside a college campus, a project like the UVM STEM (Science, Technology, Engineering, and Mathematics) Complex can generate a lot of interest from students passing by the jobsite. John Lens, a member of the UVM Engineering faculty, reached out to PC Construction with students interested in bridging their classroom experience with real-world applications. As a result, Jim Bowie, senior project manager with PC Construction, and Alex Halpern, vice president of Freeman French Freeman, presented to first year engineering students about the STEM Complex, with a basic introduction to Building Information Modeling and scheduling. Throughout the presentation, students learned about construction management and architectural design processes, as well as the importance of communication.
From John Lens, "I could not have scripted your presentation to better follow and support what we have been discussing in class regarding how projects get developed, the interaction between design and construction, and how important communication is to making the design-construction process work well."
The connection between the classroom and the construction site is crucial for students pursuing degrees in construction and engineering. These students are even more fortunate to have an active project unfolding right outside their classroom window. We look forward to continuing these opportunities for UVM students throughout the duration of construction.