Start of main content.
UVM STEM Complex
Aligning UVM and its students, faculty and staff with a new era of STEM programs.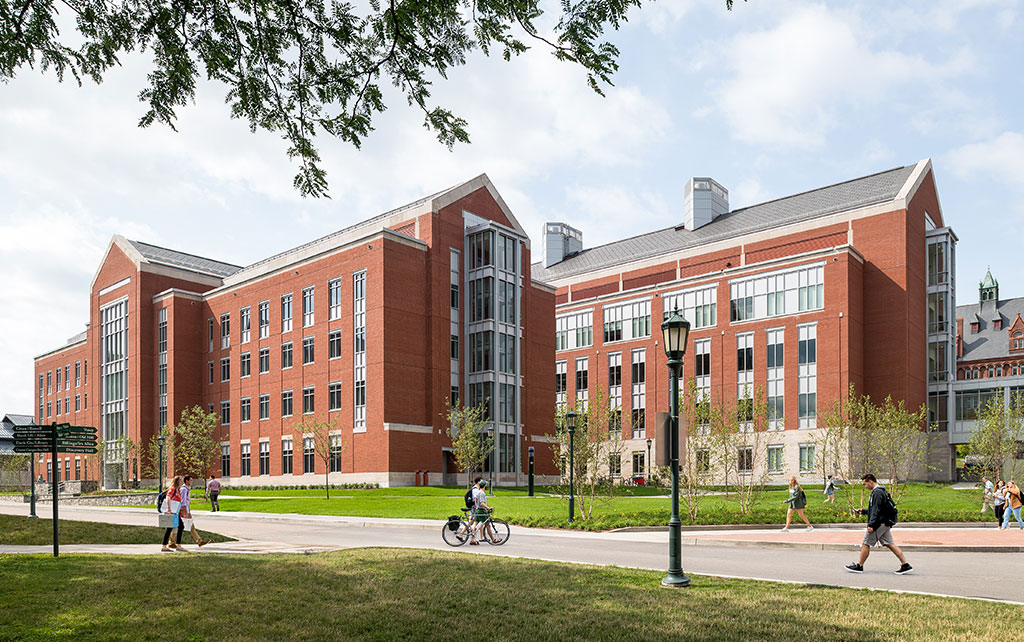 Location

Burlington, VT

Delivery Method

Design-Bid-Build

Market

Client

University of Vermont

Year Complete

2019

Region
Project Overview
Located in the heart of UVM's central campus, the new Science, Technology, Engineering and Mathematics (STEM) Complex is the largest capital project in the University's history and consists of two new conjoined buildings – one for research and one for teaching. The construction of the 120,000-square-foot Discovery Hall and the 75,000-square-foot Innovation Hall were combined with complex demolition as well as renovations to an existing facility to bring this project to life.
Discovery Hall features laboratories and research spaces spread along five levels. The basement and first floor were optimized for low vibration levels for sensitive electron microscopy and laser spectroscopy research as well as the state's only open-research clean room. The upper four floors are a mix of teaching and research labs, offices, and study areas, all shared by physics, engineering, and chemistry to facilitate collaboration and cross-disciplinary learning. Mechanical systems in the 38-foot-tall penthouse include cutting-edge ventilation and heat-recovery systems to minimize energy use.
Innovation Hall's five floors are dedicated to collaborative learning at all levels. The building features multiple technology-rich classrooms and teaching labs and two large lecture halls. The upper floors are a mix of offices and study areas designed to encourage active learning and knowledge sharing among students and faculty.
A public lobby links Innovation Hall to Discovery Hall. Discovery Hall is, in turn, linked via an 86-foot-long elevated walkway to Votey Hall, the home of UVM's Engineering School. Together, the three buildings integrate all major STEM disciplines in one central campus location.
In total, the complex features 20 state-of-the-art teaching labs with 149 fume hoods, seven media-rich classrooms, cleanrooms, faculty labs, microscopy and technical spaces, and meeting areas for student and teacher interaction.
Construction was accomplished in three phases over a four-year period. The first phase included demolition of a 1960s era lecture hall building and construction of Discovery Hall. Phase two involved the demolition of the five-story, 165,000-square-foot Cook Physical Science Building just 30 feet from the newly constructed Discovery Hall. The project concluded with phase three, the construction of Innovation Hall and concurrent multi-story renovations to UVM's Votey Hall.
Extensive 3D BIM coordination was employed to streamline the installation of the highly complex mechanical, electrical, plumbing and fire protection systems. With a substantial focus on sustainable design and construction practices, the STEM Complex achieved LEED Silver certification from the U.S. Green Building Council.
200K
Square Feet Laboratory and Classroom Space
180K
Square Feet of Complex Demolition
149
Fume Hoods in State-of-the-Art Teaching Labs
Our Clients
As a flagship STEM facility, our project saw unique challenges and required serious coordination efforts. PC always maintained a team-oriented approach in collaboration with the University, architect, engineers, and all subcontractors involved in the project.
News / Insights
Read more: UVM STEM Complex