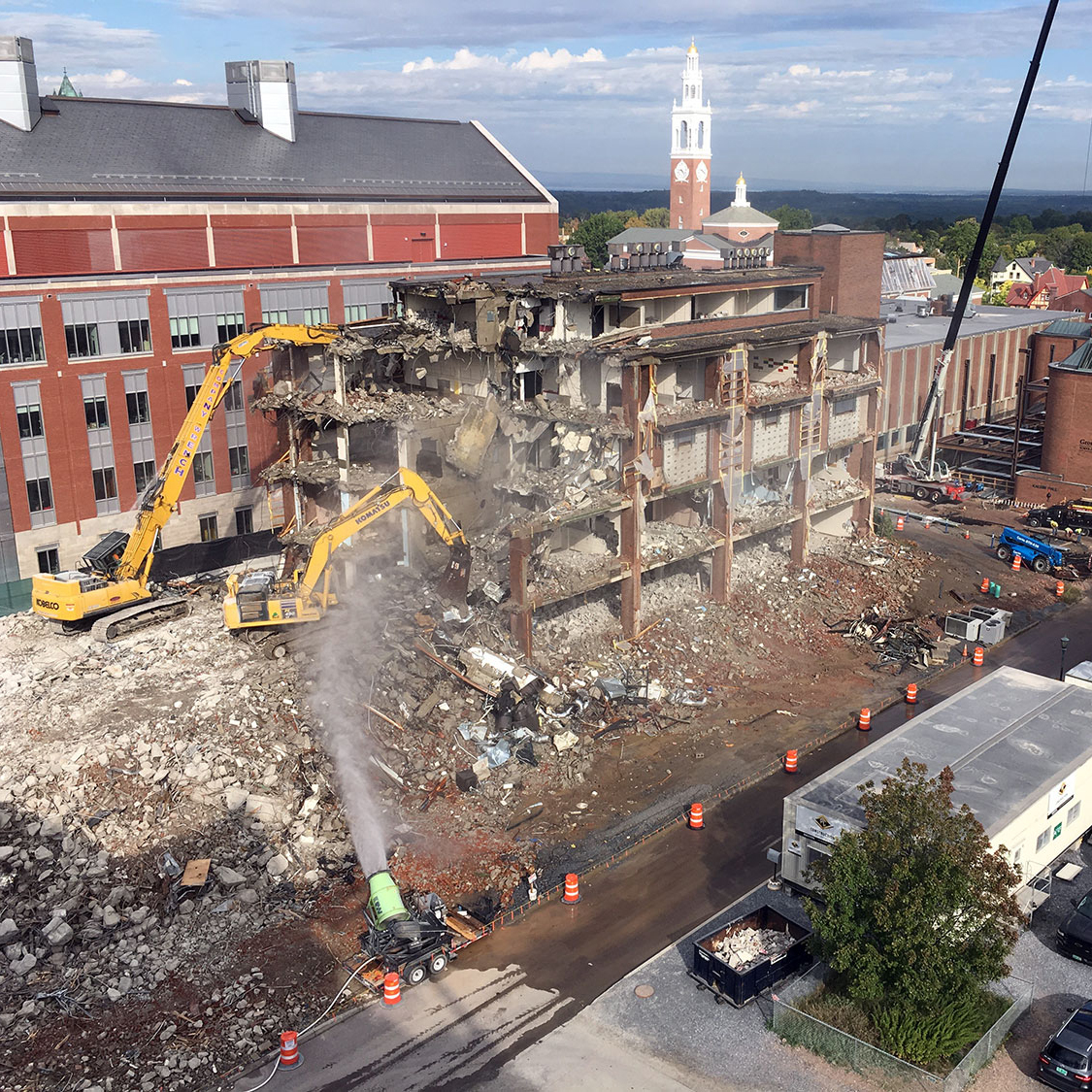 The PC Construction team recently wrapped up the demolition of the Cook Physical Science Building on the University of Vermont campus, a critical phase of the new STEM (science, technology, engineering and mathematics) Complex project. The existing Cook building was a five-story concrete and masonry structure that stood approximately 30 feet away from the new Discovery Hall Laboratory Building completed by PC Construction in May as part of the first phase of this project.
The process of demolishing the Cook building was not the exciting controlled explosive take down that onlookers envisioned (and hoped for), but its proximity to the building presented challenges and required the use of unique heavy equipment not often used in Vermont.
The demolition process began in June with a 10-week asbestos abatement contracted by UVM. PC Construction coordinated a phased plan with the abatement contractor to perform all pre-abatement and interior demolition activities congruently in the building. When the interior demolition was complete, only the concrete and masonry shell was remaining. All the building's interior materials removed during interior demolition were salvaged or sorted for recycling following the projects LEED construction waste management plan.
Following the interior demolition, the exterior brick façade was removed. The fun then began with the 85-foot Kobelco high-reach excavator that sheared and processed ("munched down") the third through the fifth level of the building over a three-week period, leaving behind a pile of rubble. The rubble was processed on site to salvage the rebar and reduce the concrete down to 12-inch pieces for transport to a local gravel yard for further processing and future distribution.
Cook Physical Science Building – A Historical Look Back
The original design and construction of the Cook building was rumored to have been completed by a very familiar team – Pizzagalli (today PC Construction) and Freeman French Freeman. During the removal of the brick façade, a parge coat behind the brick was uncovered and a finger drawn "PC" was discovered. Several days later, a curious visitor named Angelo Pizzagalli came to site and confirmed that Pizzagalli had indeed built the project. Upon further investigation, a 1970 story was pulled from PC Construction's newsletter archives, providing further evidence of the building's history.
Looking Forward
The demolition phase was considered a success regarding schedule, cost and safety for PC Construction and our subcontractor, Casella Construction. Although it was bittersweet removing a building we had constructed 50 years ago, it is a pleasure to be back at this very same spot with Freeman French Freeman building the University's largest capital project.
That brings us to the last phase of the UVM STEM Complex – Innovation Hall. The new classroom and office building will cover approximately 75,000 square feet and will be connected to the new Discovery Hall by a five-story connector. Sitework and concrete work began mid-October. Scheduled substantial completion of this phase is late May 2019.