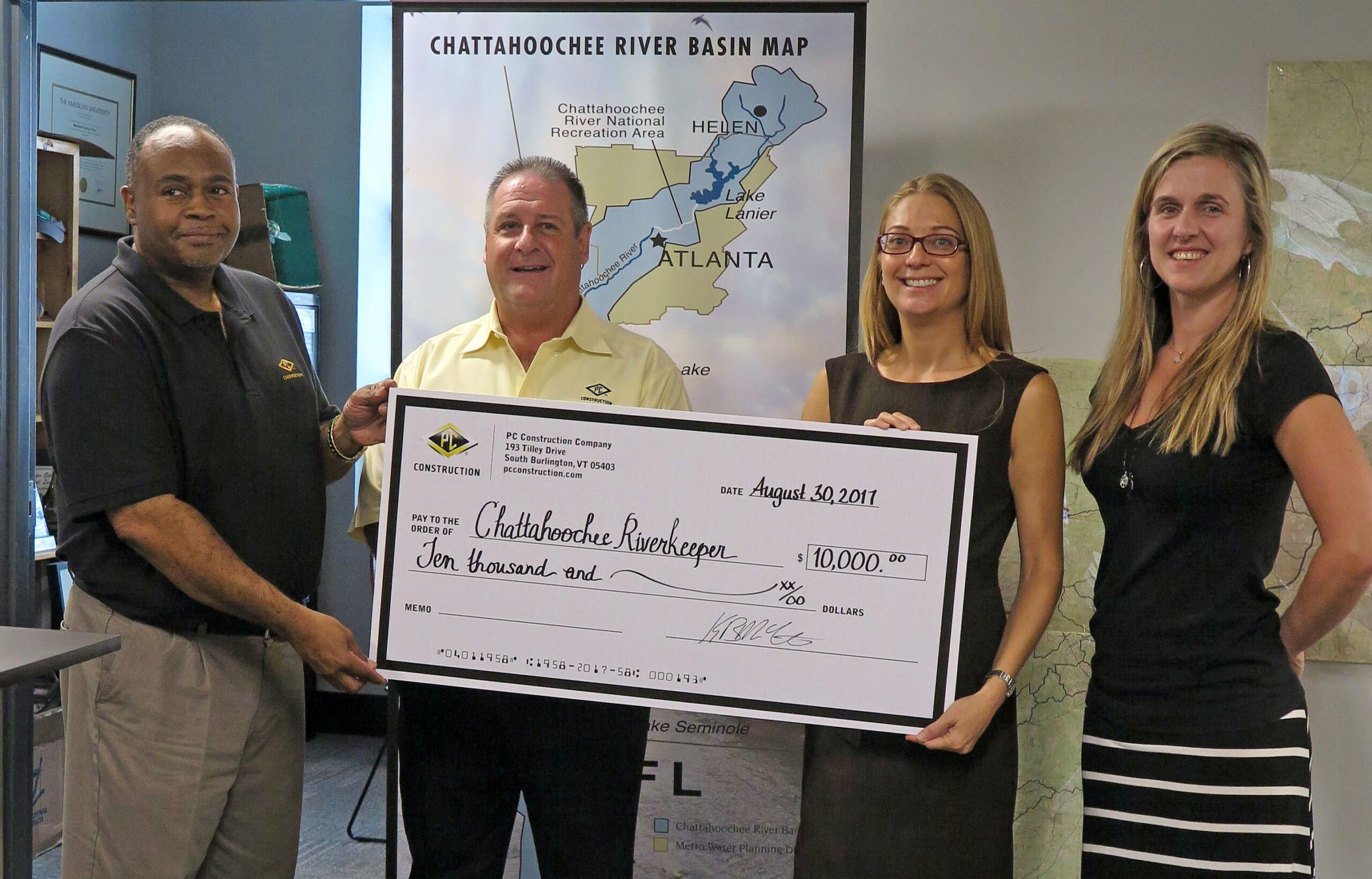 Today, members of PC Construction's Atlanta team presented three local non-profits with a total of $15,000 as part of our "PC Gives Back" crowd-sourced donations contest. Ten Atlanta-based organizations competed for the chance to win the $10,000 top prize.
Chattahoochee Riverkeeper (CRK), a nonprofit organization dedicated to protecting and preserving the Chattahoochee River, was the top vote-getter with approximately 23% of the nearly 6,000 votes cast by supporters of all of the organizations. PC Construction's Bob Huie and Dan Nawrocki joined the top three organizations earlier today at the CRK office to present the donations.
"We are proud to support Chattahoochee Riverkeeper and their work to protect the river, its lakes and tributaries for the people, fish and wildlife that depend on them," said Nawrocki. "Chattahoochee Riverkeeper uses advocacy, education, research, and more to protect and preserve the river and its watershed, which provides a drinking water source for nearly four million people."
Juliet Cohen, executive director of CRK, said the non-profit will make quick use of the $10,000 gift by providing 400 underserved children from elementary through high school with the opportunity to spend time on the river learning about water quality and lake ecology through their Floating Classroom programs.
Other winners include CHRIS 180 (formerly CHRIS Kids), an organization formed to heal children, strengthen families and build community through mental health counseling, training, safe housing and real-world skill building. CHRIS 180 received the second highest number of votes and a $3,000 gift. Cool Girls, which provides motivation, encouragement and reinforcement to help girls make smart choices and deter risky behaviors, while giving guidance for positive transformation, came in third for a $2,000 donation.
The race was close right to the end and we certainly want to commend the important contributions made by the other nonprofits who participated in this event, including Atlanta Children's Shelter, Camp Kudzu, Families First, Georgia Center for Child Advocacy, Nicholas House, PATH Foundation, and Senior Connections. Thank you for all you do in the Atlanta community!