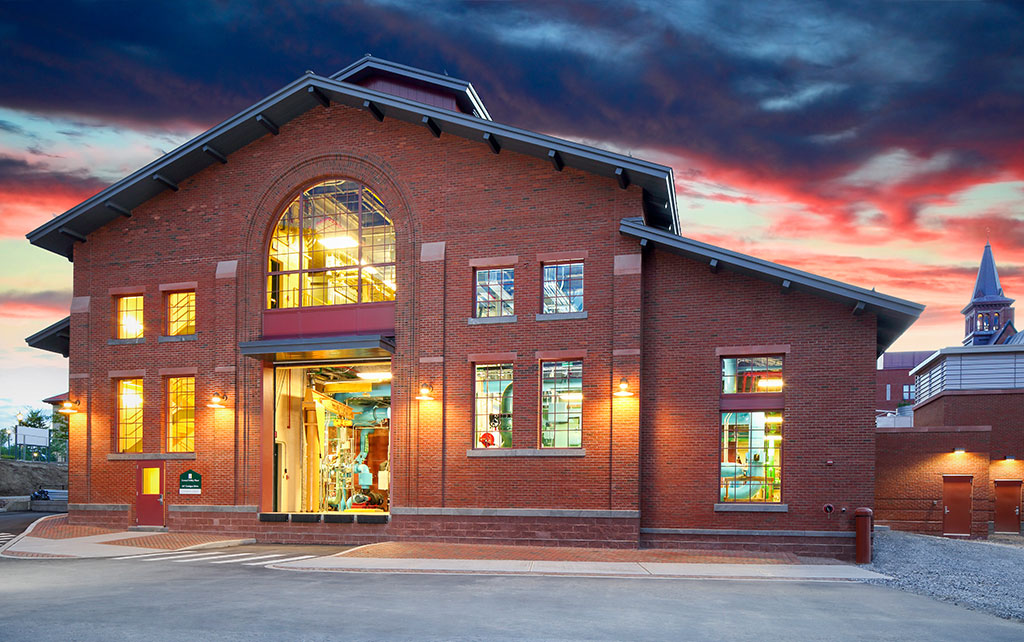 Yesterday the University of Vermont hosted an open house to celebrate the completion of their Central Plant Chiller Expansion project. The $9 million four-story chiller expansion includes a 1500-ton York chiller and associated chilled water and condenser water piping. The project also features new electrical switchgear and underground ductbanks as part of electrical infrastructure upgrades for the plant. A new masonry wall encloses existing and new cooling towers and transformers, hiding the mechanical equipment within its curved walls and absorbing sound with its acoustical panels. The new addition features a large decorative arched window above the main entrance, which replicates the existing windows.
The extensive site work included a 24-conduit duct bank with 4-inch PVC conduits for the new electrical primary supply. This work was carefully orchestrated due to its proximity to the front of the existing building and the many lines that already fed into the building. Associated shutdowns and were carefully cautiously planned to eliminate power interruption to UVM's theatre and library.
PC Construction and 20 subcontractors worked with the design team of Charney Architects LLC, RMF Engineering and Dubois & King on the construction of the chiller expansion. Construction began in early 2016 and the new chiller was operational by mid-May 2017.
The central plant, built in 1915, is nicknamed "The Cage" due to its previous use as an indoor baseball batting cage. The plant generates and distributes steam and chilled water to meet the campus needs for space heating and air conditioning, hot water generation and scientific research support.