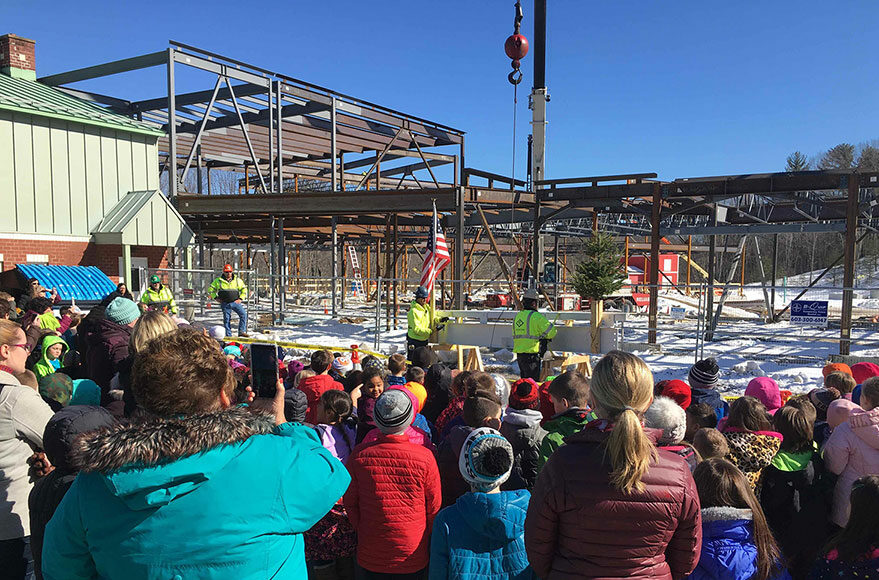 Last month the students at Margaret Chase Smith School celebrated Kindness Month. One of their kind actions warmed the hearts of our project team constructing the school's renovation and addition project.
From the windows in their classrooms, the students had been watching workers erect steel in the frigid temperatures. Before we knew it, coffee and snacks arrived from the students with homemade 'thank you' cards. We were so blown away by their appreciation for PC and our subcontractor partners that we just had to spread a little kindness of our own.
Knowing that the last steel beam would soon be set into place, PC invited the students and staff to sign the beam and participate in the topping out ceremony. Last Friday, the sounds of hundreds of tiny voices chanting "raise it up" filled the air as the crane lifted the decorated beam to its final resting spot. And, because so many of the 'thank you' notes featured drawings of excavators, the PC team donated a toy excavator to the school's playground.
We're looking forward to next year when these same students will fill the halls of the new school spaces!
Below: One of the many "thank you" notes from Margaret Chase Smith School students during Kindness Month.