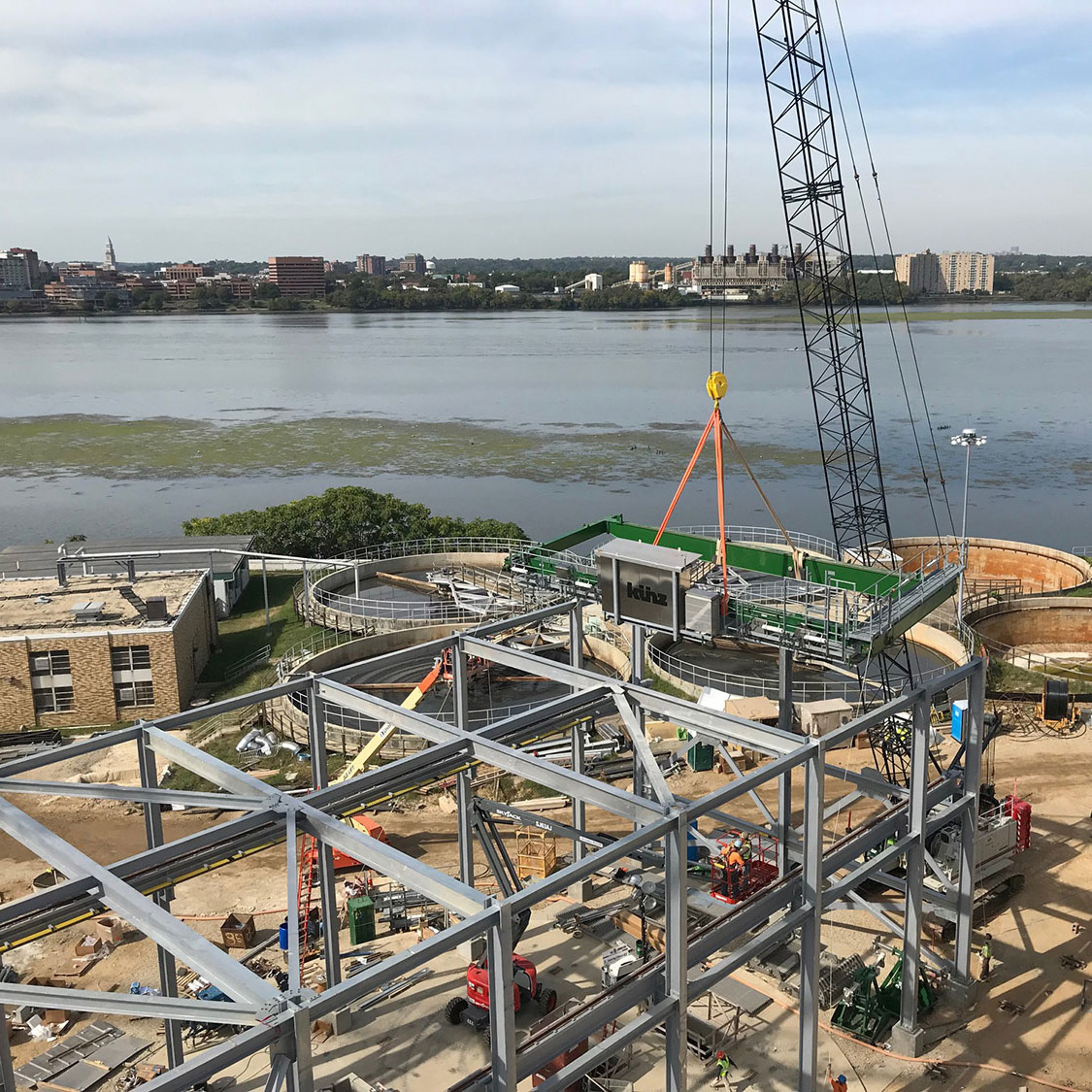 It is no secret that Washington D.C. has struggled with outdated sewer systems, especially during major rain events. These events overwhelm the current system and cause combined sewer overflow to dump untreated sewage and stormwater into the Potomac and Anacostia Rivers. PC Construction's work, along with the construction of multiple tunnels and deep shafts throughout the city, will allow the DC Clean Rivers Project to greatly improve the quality of these rivers and eliminate 96% of overflow during major rain events.
The Blue Plains Advanced Wastewater Treatment Facility is at the very end of the tunnel system, which is where our work starts. The project includes a 153-foot-deep by 81-foot-diameter surge shaft and a 165-foot-deep by 140-foot-diameter tunnel dewatering pump station, in addition to the above-ground enhanced clarification facility structures. When the system is complete, any combined sewer overflow will fill the tunnel and flow south to the screen and surge shaft, carrying with it an incredible amount of debris. The screen and surge shaft is the first level of screening for the entire facility, and to capture this kind of debris, a specific type of system was required.
The selected system, which is technically called a deep shaft cleaning machine (DSCM), was fabricated by Kuenz in Austria and is specifically designed for cleaning the screen and surge shaft. The following components make up the DSCM:
Two 9-foot-wide by 33-foot-tall bar screens – This is the first level of screening/separation. Any debris that is 3 inches or smaller will pass through the screens to be pumped up to the enhanced clarification structures for further processing.
Two 35,000-pound roller gates – The two roller gates close off any flow to the TDPS during future maintenance or expansion. When not in use, the roller gates live in storage slots within the facility. When needed, the gates will be lifted by a 40-ton overhead bridge crane and lowered into their frames 153 feet below.
Screen Rake – The screen rake cleans and removes any debris stuck in or in front of the bar screens. The rake is operated from the overhead bridge crane and will be lowered and raised in its own guide frames.
Clamshell – The clamshell cleans and lifts any larger debris or material in front of the screens. It will be lowered and raised in separate guide frames from the overhead bridge crane.
Because the surge shaft will be filled with plant service water for start-up and testing purposes, the DSCM installation had to be completed in advance. The project team recognized this as a high priority, completing the installation safely and on time.