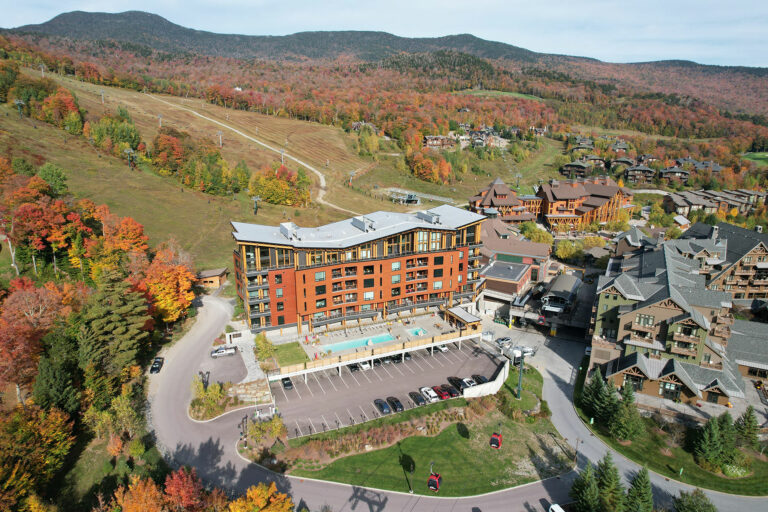 South Burlington, VT – Last week, PC Construction accepted a national award from the Construction Management Association of America (CMAA) for One Spruce Peak, a residential mountain retreat at the base of Stowe, Vermont's popular Spruce Peak ski resort.
This marks the second national award and the fourth major recognition for the project, which was completed in 2022. The $46.5 million, six-story, 125,000-square-foot facility includes 27 ski-in/ski-out residences, townhomes, and penthouses. Units feature in-residence elevators, spacious balconies with mountain views, sweeping floor-to-ceiling windows, and best-in-class materials and finishes.
"We are grateful to CMAA for recognizing our work, and to Spruce Peak Realty, the project owner, for their strong and ongoing partnership," said PC President / CEO Matt Cooke. "This project shows how a team's creativity, agility and determination can overcome even the biggest challenges."
PC's team of project management staff, craftworkers, and more than 400 trade partner workers collaborated on an unconventional phased-delivery approach that challenged construction logistics and methods. In addition, ongoing supply chain and manpower shortages required PC to identify and create alternative solutions to ensure an on-time delivery.
One Spruce Peak has also won a national Construction Risk Partners Build America Award from AGC America, a regional Project Achievement Award from CMAA New England, and a state Best Builders Award from AGC Vermont.
Upon One Spruce Peak's completion, PC Construction was also selected to build the resort's next development, a $76.4 million project including the four-story Treehouse at Spruce Peak and a parking garage. Work on that project is currently in progress, with estimated completion in spring 2024.