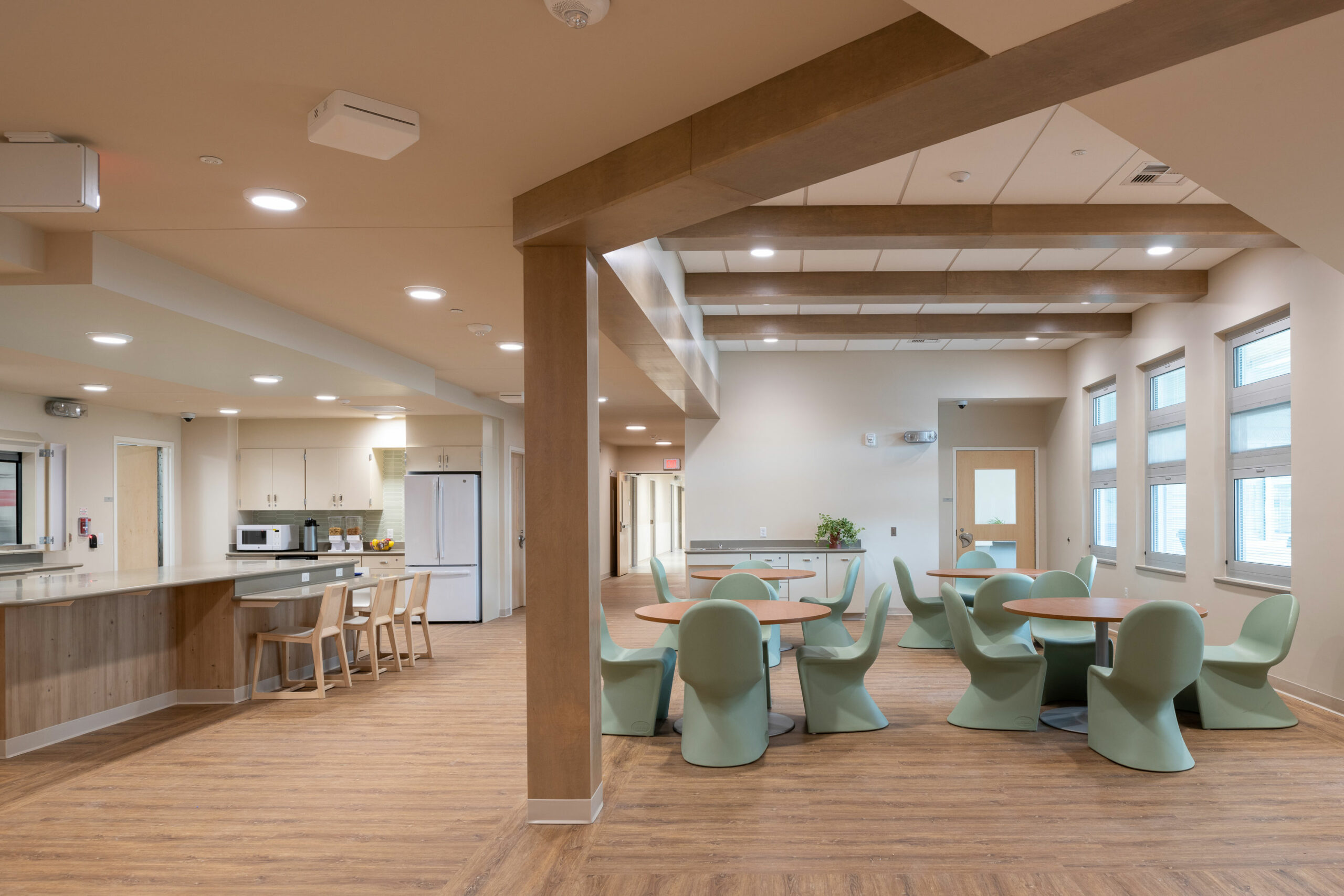 Essex, VT – PC Construction recently joined Governor Phil Scott, officials from the Vermont Department of Mental Health, and leaders in Vermont's mental health advocacy community for the opening of the River Valley Therapeutic Residence, a 16-bed mental health recovery facility in Essex, Vermont. PC Construction led the $16 million project, which broke ground in October 2021.
The one-story, 20,000-square-foot, secure residence will address the state's critical need for step-down mental health facilities for Vermonters. Designed by Freeman French Freeman and Lavallee Brensinger Architects, the residence features patient rooms, an art studio, an exercise gym, a dining area, a kitchen where residents can learn and practice food preparation skills, and an outdoor patio with green space. The facility also accommodates 24/7 onsite nursing care. During their stays – which are expected to average 10 months – residents will continue to receive appropriate therapy and also develop social and life skills to support their transition to independent living.
Prior to this facility coming online, Vermont only had 7 step-down beds at a temporary facility in Middlesex, which consistently operated near or at capacity. So patients who were ready to start transitioning back into the community often had nowhere to go, and continued to occupy limited inpatient hospital beds for months at a time. That meant that, further up the chain, Vermonters in crisis lingered in emergency rooms, waiting for a bed to open up in one of the state's inpatient treatment programs.
"PC Construction is proud of the health care projects we construct in Vermont and beyond," said PC President / CEO Matt Cooke. "This is our way of helping ensure our neighbors and family members get great quality health care in modern and state-of-the-art facilities. Vermont has a shortage of mental health facilities, and this residence will offer relief to the system and help more Vermonters get the health care they need in the right setting."