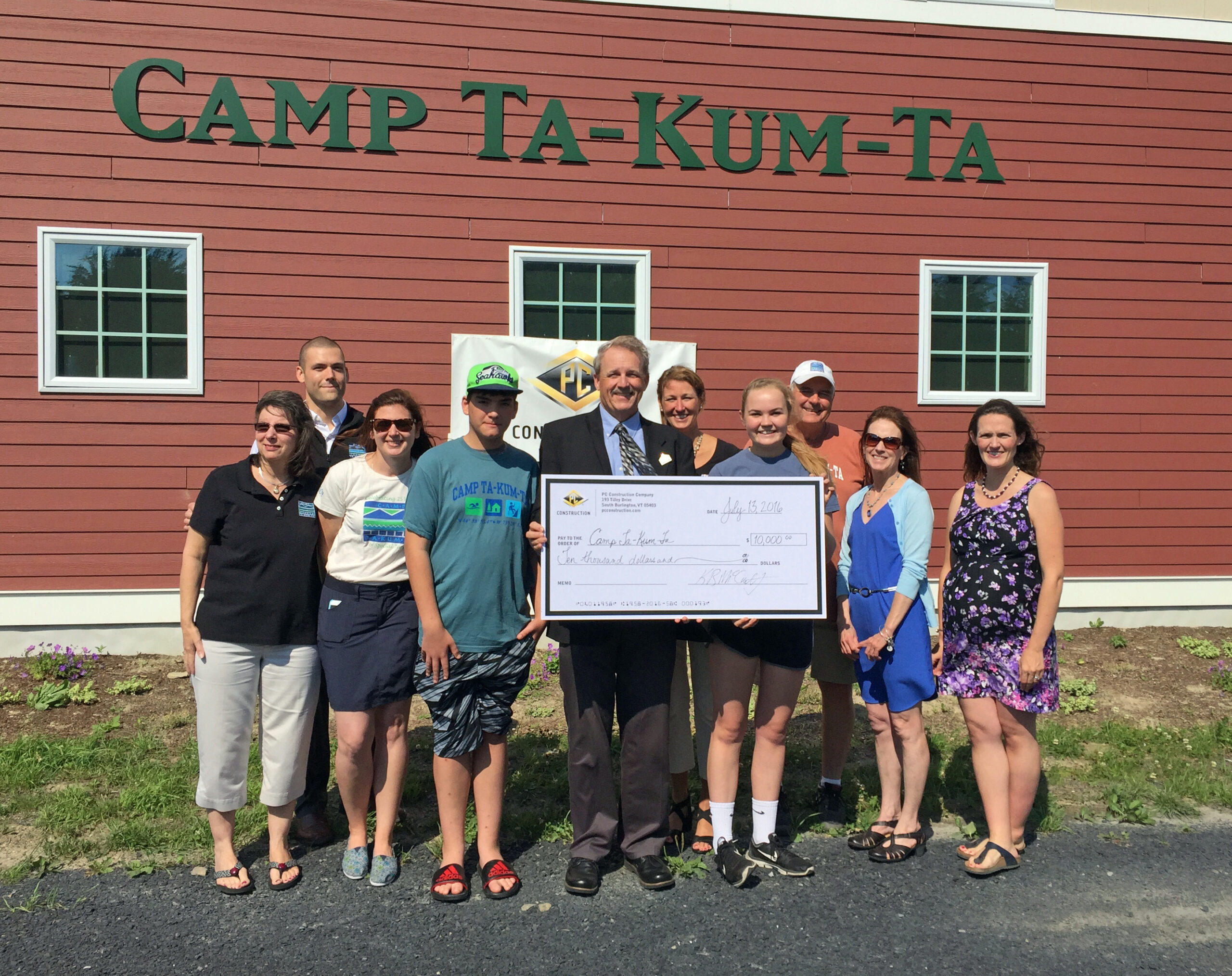 Today PC Construction announced the three recipients of donations totaling $15,000 as part of the company's "Building Communities: PC Construction Gives Back" contest.
The first-place winner, Camp Ta-Kum-Ta in South Hero, Vermont, received a $10,000 donation. The second-place winner, SAFEchild of North Carolina, received $3,000 and Atlanta Children's Shelter of Georgia came in third to receive $2,000.
The announcement of the three winners follows a month-long crowdsourced voting contest. PC Construction's 1,100 employee-owners nominated the initial 10 nonprofits from areas in which the company works. The contest was then opened up to the public and nearly 5,500 votes were cast to help determine the final three winners. Camp Ta-Kum-Ta captured 35% of the votes.
"It is a true honor to recognize these amazing organizations," said Kevin McCarthy, president and CEO of PC Construction. "These nonprofits are the everyday heroes that help make the world better for children and families in our communities. Their dedication, hard work and big hearts secure a happier childhood and brighter future for so many. While only three of these organizations received donations today, all ten of them and thousands others should be applauded for their efforts. Thank you for all you do."
Camp Ta-Kum-Ta was founded in 1984 to provide challenging, extraordinary experiences for cancer-affected children and their families.
"Camp Ta-Kum-Ta is honored to be the recipient of the PC Construction Gives Back contest and is grateful for all our community friends and volunteers who voted! Our amazing network speaks to the incredible work that happens at Camp for children who have or have had cancer," said Camp Ta-Kum-Ta Executive Director Hattie Johnson. "This gift from PC Construction will allow us to continue giving our campers and their families year-round programs, which are designed to allow them to put the burden of cancer aside and simply be a kid again. Camp Ta-Kum-Ta is free for all campers because of supporters like PC Construction and those in our loving community. Thank you!"
The seven other nonprofits chosen by PC Construction employee-owners included: Baltimore Child Abuse Center, Baltimore, Maryland; CHRISkids, Atlanta, Georgia; Cross Roads House, Portsmouth, New Hampshire; Day One, South Portland, Maine; ForKids, Norfolk, Virginia; King Street Youth Center, Burlington, Vermont; and Preble Street Resource Center, Portland, Maine.
This is the sixth year of the company's crowdsourced giving program which has garnered more than 65,000 votes and resulted in over $100,000 in donations.