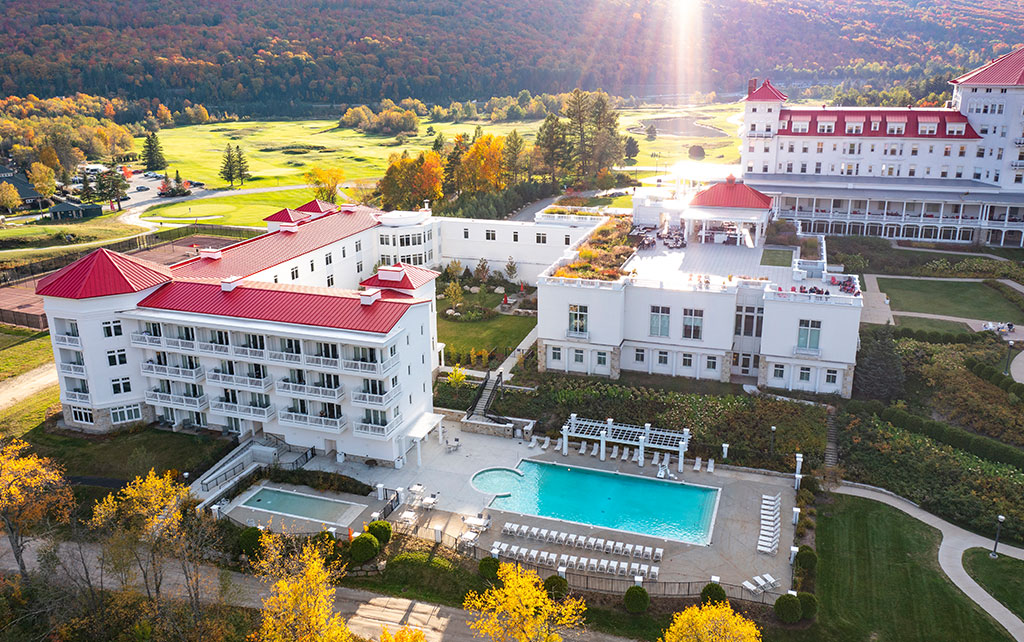 South Burlington, VT – PC Construction is pleased to announce that the $25 million addition and renovation to the historic Omni Mount Washington Resort has been completed.
The project, which was designed by Bull Stockwell Allen, added a 60,000-square-foot, four-story facility with 69 guestrooms, a club lounge, a courtyard spa garden and a poolside grille to the resort's existing 200-room footprint. PC Construction also completed a kitchen upgrade and extensive roof improvements, featuring a new rooftop terrace.
Said PC Construction President and CEO Jay Fayette: "We were honored to have been selected for a project of this significance – both in terms of its scope as well as its historic importance."
The original hotel was designed by prolific 19th century architect Charles Alling Gifford, and construction was completed in 1902. It earned a notable place in world history as the site of the 1944 Bretton Woods Monetary Conference. In more recent history, this National Historic Landmark – one of the last grand hotels in the White Mountains – has become a favorite retreat of presidents, poets and celebrities.
Fayette continued, "I'm also incredibly proud of the team for the way they responded to the unprecedented and unparalleled challenges presented by COVID-19," which descended upon the U.S. just seven months into this project. "With a commitment to Lean construction methods from day one, we successfully achieved all project milestones," he said, noting that more than half of the guestrooms were turned over to the hotel ahead of schedule.
Josh DeBottis, General Manager of the Omni Mount Washington Resort, said, "The addition of the Presidential Wing has elevated the level of accommodations and amenities we're able to offer here at one of the nation's most iconic destinations. We are now well-positioned to further enhance the guest experience, allowing our guests to enjoy a luxurious retreat in the beautiful White Mountains of New Hampshire. We appreciate PC's partnership on this project."