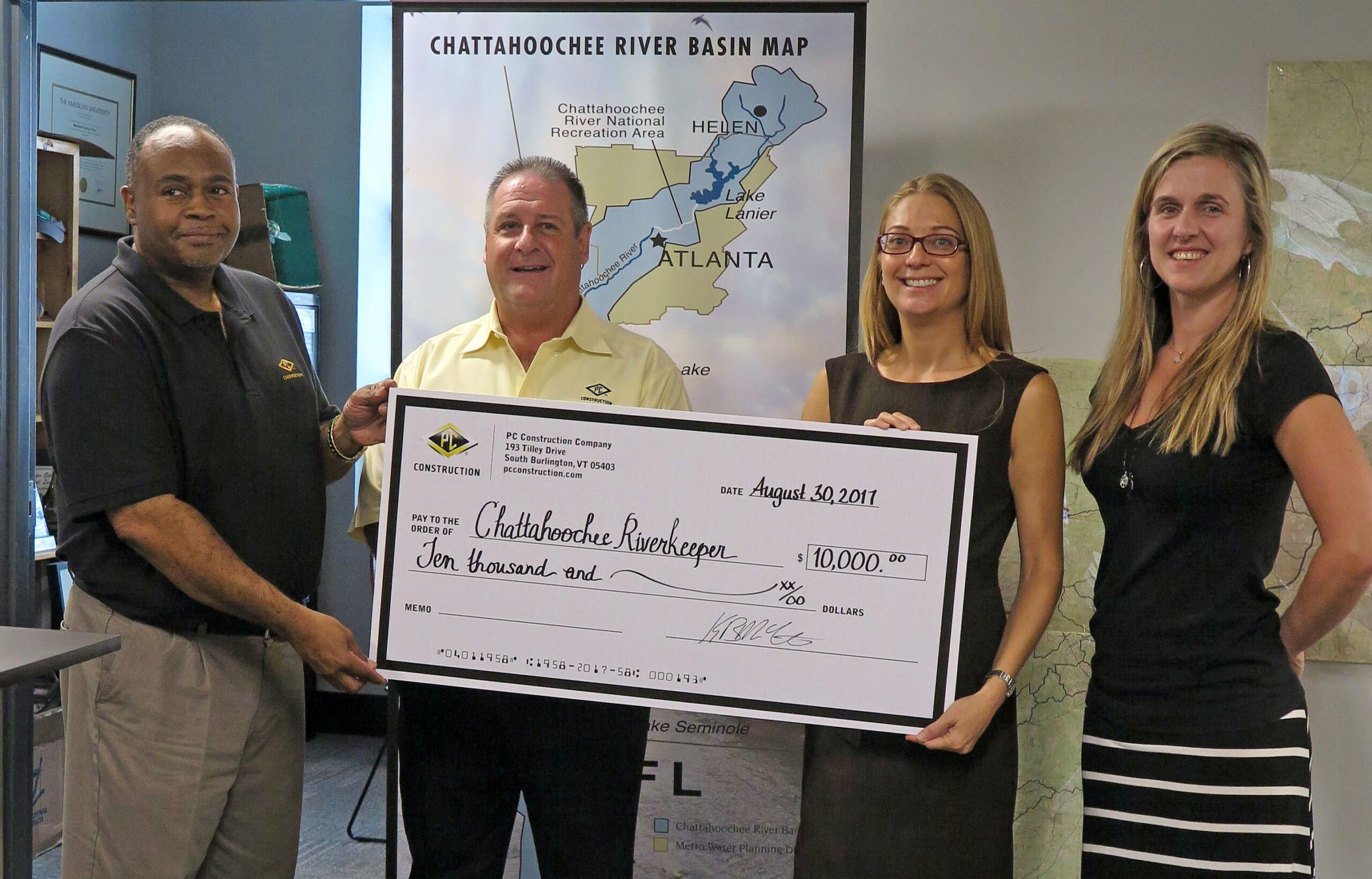 Atlanta, GA – PC Construction, among the nation's largest employee-owned construction companies, recently announced the results of its "PC Gives Back" contest to determine which of 10 Atlanta-area non-profits will split $15,000. PC Construction encouraged local residents to vote for their favorites among 10 worthy charities selected by the company's employee-owners.
Chattahoochee Riverkeeper (CRK), a nonprofit organization dedicated to protecting and preserving the Chattahoochee River, was the top vote-getter with approximately 23 percent of the nearly 6,000 votes cast and received $10,000. A check presentation took place earlier today at the Chattahoochee Riverkeeper Office. PC Construction's most recent local project is a joint venture on the City of Atlanta Water Supply Project, one of the largest infrastructure projects currently underway in the country. The project will connect the city's water supply with the Chattahoochee River to significantly increase Atlanta's drinking water reserves.
"We are proud to support this organization and its work to protect the river, its lakes and tributaries for the people, fish and wildlife that depend upon them," said Joe Porter, director of business development and employee-owner at PC Construction. "Chattahoochee Riverkeeper uses advocacy, education, research, and more to protect and preserve the river and its watershed, which provides a drinking water source for nearly four million people."
"As our work in the areas of water and wastewater infrastructure continue to grow, we're very pleased to support organizations that protect our valued natural resources," said Kevin McCarthy, President and CEO of PC Construction.
Juliet Cohen, executive director of CRK, said the non-profit would make quick use of the $10,000 it receives as first-place winner in the contest.
"We are thrilled to be selected as the PC Construction contest winner," she said "The $10,000 prize will allow us to take 400 underserved children, most of whom have never even been on a boat before, on board our Floating Classroom programs. The Floating Classroom is truly a once-in-a-lifetime outdoor education experience."
Other winners include CHRIS 180 (formerly CHRIS Kids) an organization formed to heal children, strengthen families and build community through mental health counseling, training, safe housing and real-world skill building. They will receive a $3,000 gift. Cool Girls, which provides motivation, encouragement, and reinforcement to help girls make smart choices and deter risky behaviors, while giving guidance for positive transformation, will receive $2,000.
"We are happy to support these organizations in Atlanta and urge the community to support all of the hard-working non-profits who participated," McCarthy urged.
Other non-profits that competed in the contest included Atlanta Children's Shelter, Camp Kudzu, Families First, Georgia Center for Child Advocacy, Nicholas House, PATH Foundation, and Senior Connections.