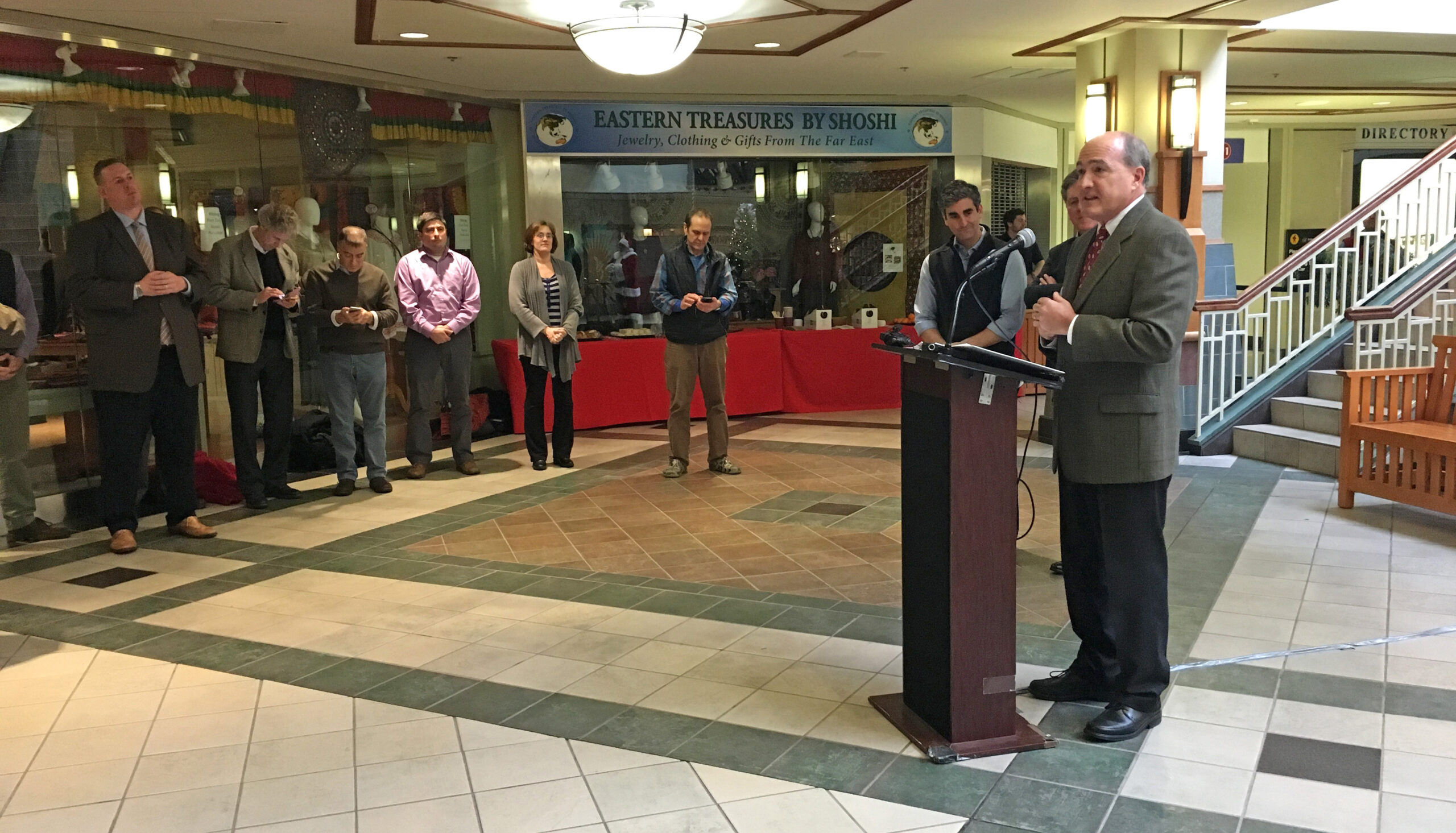 Burlington, VT – Devonwood Investors LLC, owner and developer of the Burlington Town Center (BTC), today announced that it has retained local firms as a part of its expert development team to move forward the Burlington Town Center redevelopment project. These firms collectively employ hundreds of individuals skilled in architecture, engineering, permitting, construction management, and related areas. Following the favorable City-wide vote on November 8, 2016 to affirm new zoning standards for a portion of the downtown that includes the Burlington Town Center, the redevelopment project has moved quickly to finalize retention of its development team and to complete work required for City permitting. Construction is expected to commence in the first half of 2017.
"Today's announcement demonstrates the immediate benefit of the voters' decision on November 8 to support the Burlington Town Center redevelopment," said Burlington Mayor Miro Weinberger. "Devonwood's selection of local design, construction, and consulting firms to help carry out this project is a tribute to the considerable talent in our very own backyard. We are now poised to make significant progress on creating new housing, construction and permanent jobs, environmental protections for our lake, and a revitalized downtown neighborhood in the place of an aging mall. I look forward to the redevelopment completing its permit review process and continuing to move forward toward groundbreaking."
PC Construction will serve as the general contractor and construction manager for the project. Over the past 58 years, PC Construction has developed its reputation as one of the leading general commercial construction firms on the East Coast. Founded and headquartered in South Burlington, Vermont, PC Construction is 100% employee owned. It has successfully completed major projects in Vermont and elsewhere, including the LEED Platinum George D. Aiken Center, the LEED Silver Shelburne Museum Center for Art and Education, the Winooski Downtown Redevelopment, the Waterbury State Office Complex and multiple projects at Stowe Mountain Resort in addition to the University of Vermont STEM Complex project currently in construction.
"The Burlington Town Center project is all about revitalizing the marketplace and supporting the local economy through new housing, retail and more, so it's a natural fit to partner with PC Construction and so many other Vermont firms who represent the very best in construction, engineering, landscaping and architecture," said Don Sinex, principal of Devonwood Investors LLC. "These talented professionals will assist in bringing this project to reality and a future for Burlington that promises jobs, economic growth, additional tax revenue, a reconnected City, and a more vibrant Downtown Burlington. Our shared vision of a project that is environmentally sound, where people can live, work, shop and socialize is an important step closer with this announcement."
"PC Construction's 1,200 employee-owners are proud to be part of the Burlington Town Center project," said Jay Fayette, senior vice president of PC Construction. "We've worked closely with Don Sinex and the Devonwood team to help develop the plans to date and are thrilled to see their vision become reality for the City of Burlington. We will continue to work closely with local design firms, key Vermont subcontractors and the City of Burlington to ensure that this project brings great opportunity to the business community, while keeping our neighbors and visitors safe and sound during construction work."