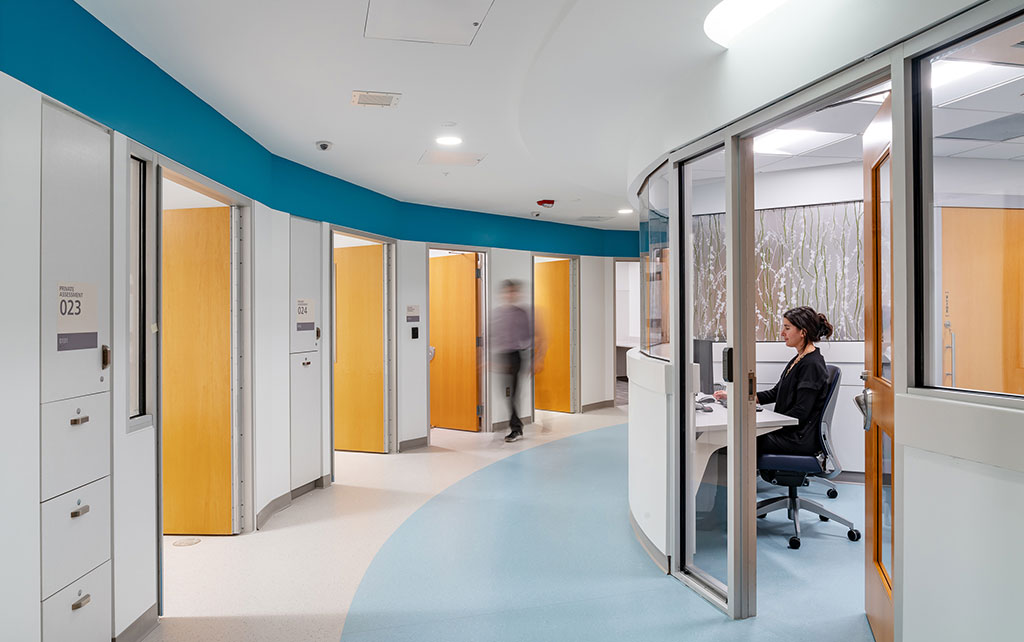 South Burlington, VT – PC Construction's employee-owned team was recently honored with a Build Maine Award from the Maine chapter of the Associated General Contractors. The company was recognized for its work on the Southern Maine Health Care Behavioral Renovation project in Sanford, Maine. The project was completed in January 2021.
The $8.6 million project, which was designed by Margulies Perruzzi Architects out of Boston, updated a total of 21,000 square feet at the facility, delivering a 40-bed locked unit and infrastructure upgrades to accommodate the community's behavioral health needs. The renovation included two fully padded seclusion rooms and incorporated behavioral-specific safety features such as high-impact exterior windows, ligature-resistant fixtures, rescue hinges and soft suicide-prevention doors.
PC also renovated parts of the active emergency department to house an additional five bays, along with security and office space. Because this work was done above active operating rooms and the imaging department, extensive sound and vibration testing was completed prior to demolition to eliminate the potential of construction activity interfering with sensitive procedures on the floor below.
"We are so proud to contribute to the greater availability of life-saving behavioral health care in the state of Maine," said PC Construction Vice President Mike Leonard. "This state-of-the-art facility will provide a level of comfort that matches the compassion of the hospital's medical team, all while ensuring vulnerable adults in acute psychiatric crises have the resources and medical care they need."
"PC took on a renovation project in an area of the hospital which had been vacant for several years," said Wes Pooler, Vice President of Support Services with MaineHealth – Southern Maine Health Care. "Along with the many challenges 1965-era construction typically presents, we experienced COVID right in the midst of construction. The PC team remained focused and disciplined, ensuring progress continued. The project team partnered very well with our MaineHealth team, and collaborated to deliver a beautiful, new behavioral health unit that will help us better serve the patient needs of Southern Maine."