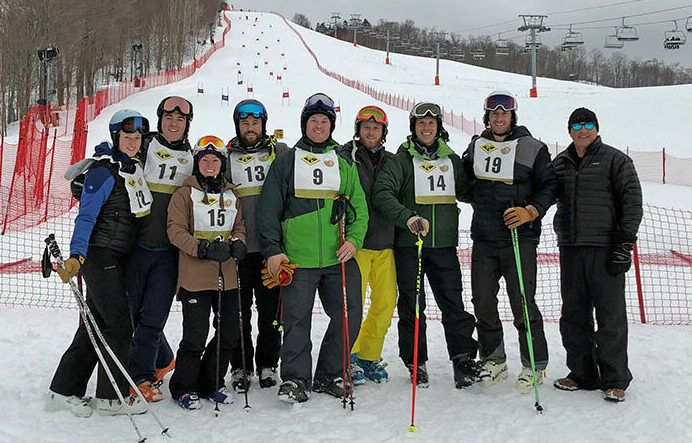 This past weekend, PC traded in work boots for ski boots at the inaugural Founder's Cup fundraiser for the Spruce Peak Performing Arts Center. As an executive sponsor for the event, PC fielded a team of racers to compete in the dual Giant Slalom race down the slopes of Stowe Mountain Resort. For PC, it was a bit like coming home with so much of the resort's landscape having been constructed by PC in previous years, including two venues for the event – the Spruce Peak Performing Arts Center and the Spruce Peak Village Center.
PC's race team, affectionately known as the "PC Hammers" were up against some stiff competition with teams including racers such as former Olympic gold medalist Picabo Street and current world cup racer Paula Moltzan, among many other notable racers. After a few training runs, the "The Hammers" took their first run and then stepped it up a notch for their second run. As we crossed the finish line for the final time, we were met with the sound of a ringing cow bell by PC President & CEO Jay Fayette.
The day's festivities shifted to an Apres-ski event at The Club followed by a concert series at the Spruce Peak Performing Arts Center with music by various members of the Dave Matthews Band, O.A.R., Guster, and many others. After the opening set, Picabo Street came on stage and announced that the PC Hammers were the overall race champions, taking home commemorative Founder's Cup trophy mugs!
A great day was had by all and we are proud to represent PC, both on and off the slopes.