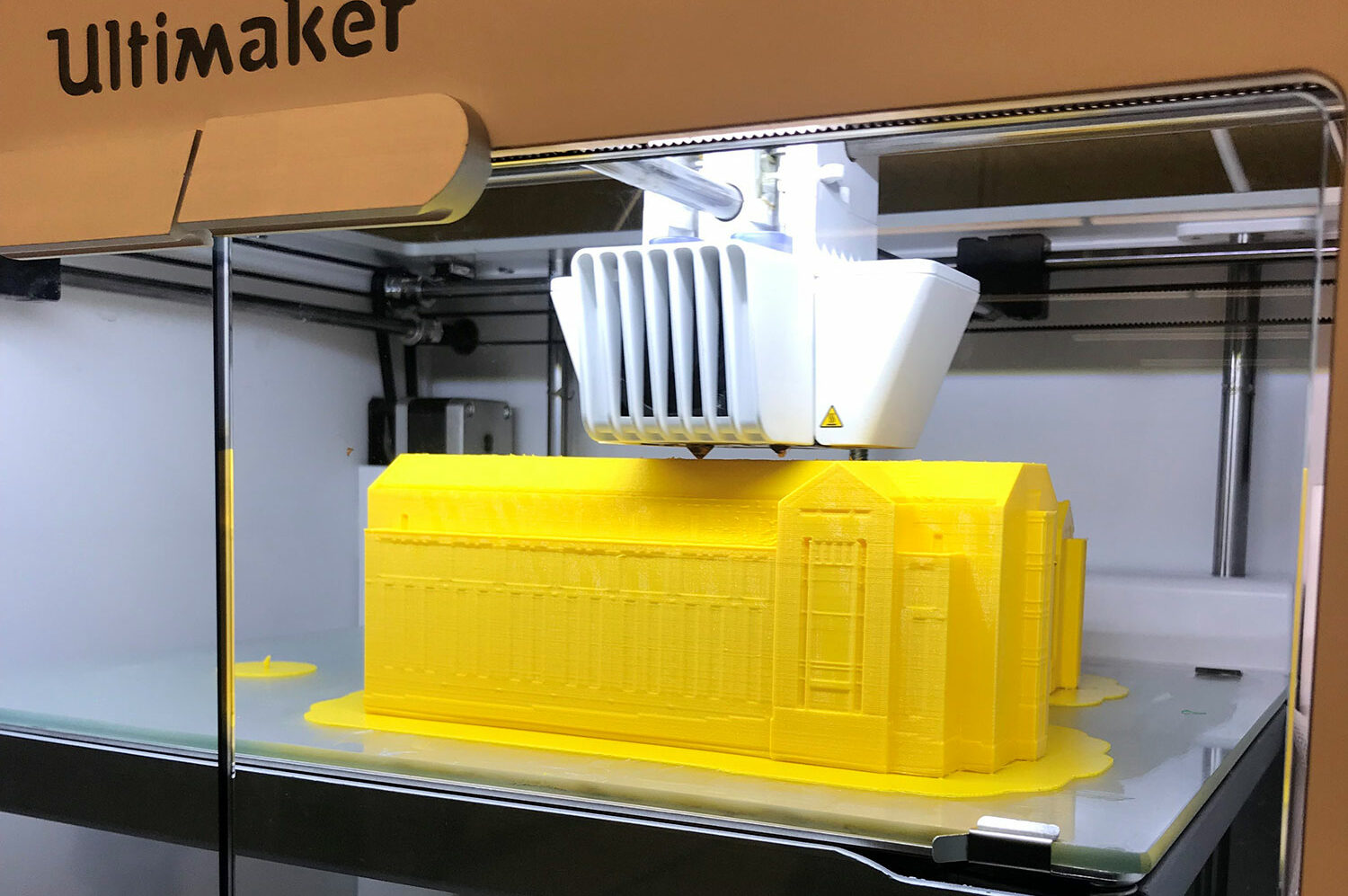 PC Construction's Virtual Construction Department recently teamed with The University of Vermont's FabLab to produce a 3D print model of the University's award-winning STEM Complex. The construction of the UVM STEM Complex was completed by PC last fall and the architectural model wasn't originally intended for 3D printing. Because of this, PC prepped the model to ensure compatibility with the 3D print process.
We first adjusted our virtual models to remove all interior items, leaving just the hollow shell of each building. Then, using Dynamo software, a custom script was written to convert the shell of the buildings into solid 3D masses, which is necessary for the models to be self-supporting during and after 3D printing. With this complete, we handed our model over to the FabLab team for test printing. After a few adjustments, the model was ready for final printing.
Using a Ultimaker S5 3D printer, one 3D model of both buildings took about 34 hours to print and used 374 grams of PLA plastic. This is the first 3D building printed by the UVM FabLab and we are looking forward to teaming up on more projects in the future!
The STEM Complex consists of two new five-story buildings totaling nearly 200,000 square feet. The project includes a state-of-the-art laboratory building as well as a modern classroom and teaching building to align UVM and its students, faculty and staff with a new era of STEM programs. The complex features 20 state-of-the-art teaching labs, seven media-rich classrooms, faculty labs, and meeting spaces for student and teacher interaction. The buildings interconnect with a third existing building to house the chemistry, physics, engineering, mathematics and statistics and computer science programs. The construction process employed extensive 3D BIM coordination to streamline the installation of highly complex MEPF systems.
Learn more about this project:
UVM STEM Complex Achieves LEED Silver
UVM STEM Complex Wins Regional and National Awards