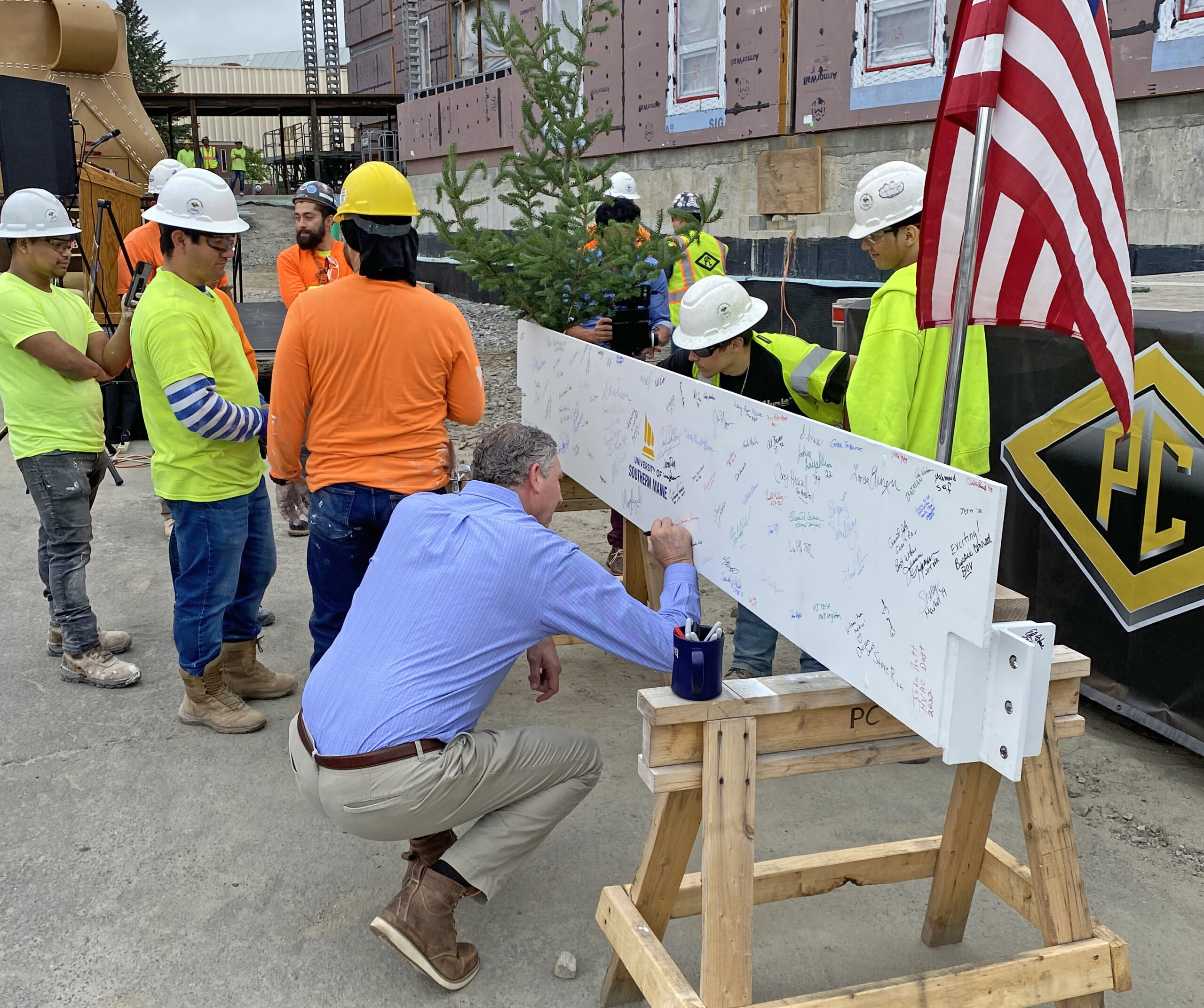 Last Thursday, the University of Southern Maine project team celebrated the placement of the final steel beam for the new Portland Commons Residence Hall with a traditional topping out ceremony. This marks a significant milestone in the University's Portland Campus Development Project. The Career & Student Success Center, which PC also has under construction adjacent to the residence hall, topped out the timber framing in January.
There was excitement in the air as USM students and leadership, USM President Glenn Cummings and L.L.Bean Chairman Shawn Gorman joined with members of the PC Construction team to celebrate the construction progress and recognize L.L.Bean's $850,000 donation to the University.
The Portland Campus Development Project includes the addition of a three-story, 42,000-square-foot Career & Student Success Center, the 580-bed Portland Commons Residence Hall and a one-acre Residential Quad that will become a natural campus gateway for the USM community.
The Portland Commons Residence Hall, which is on track to be one of the five largest Passive House residence halls in the country, includes eight- and five-story wings with a mix of en-suite single-occupancy rooms, studio apartments and multiple-bedroom apartments.
The Career & Student Success Center features diagonal mass timber framing, a corrugated metal facade, an interior stone fireplace and natural stained wood. Constructed to LEED standards, the facility features a 270-seat dining space with café, a 140-seat multi-purpose event room, student lounges, office space, a career counseling center, a bookstore, a radio station, and a large, roof-top solar photovoltaic array.
Stay tuned for updates as we progress toward 2023 completion!