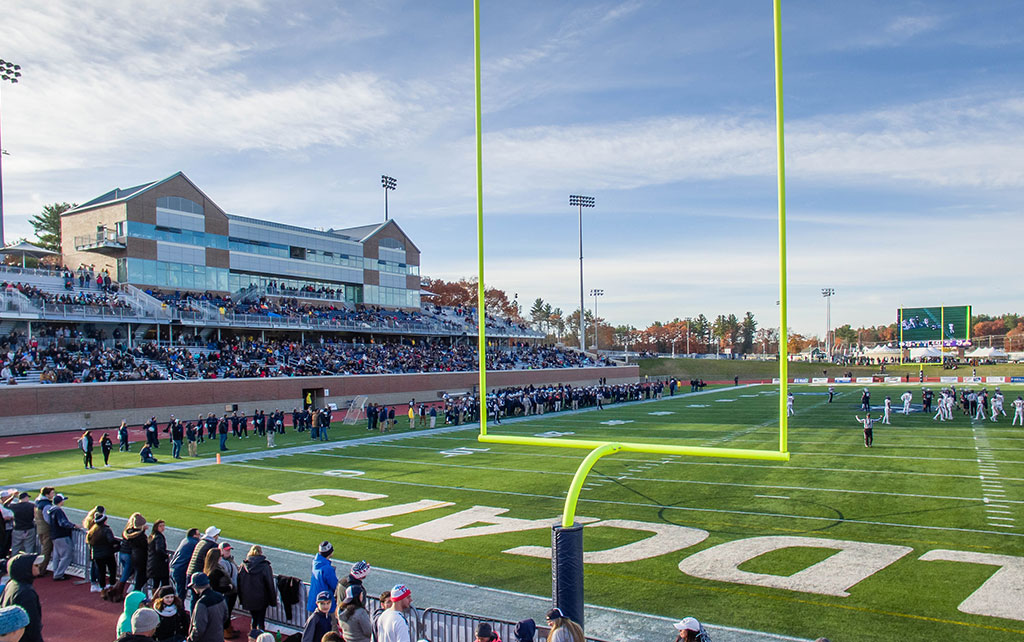 PC Construction was recently recognized by the New England chapter of the Design-Build Institute of America with a 2017 Design-Build Award Honorable Mention for the University of New Hampshire Wildcat Stadium project. While the award has PC Construction's name on it, the success of this project is really a result of so many people and firms coming together to achieve a common goal.
When the University of New Hampshire was ready to move forward with the construction of their state-of-the-art NCAA Division I stadium, they turned to design-build delivery to ensure all their project goals were met. Teaming with PC Construction, Lavallee Brensinger Architects and Populous, design commenced immediately with construction following in May 2015. An aggressive schedule was adopted to meet the university's required late summer 2016 completion date to accommodate the football season's opening game. The design-build delivery method, combined with the release of early work packages and innovative problem-solving, allowed the team to deliver on time.
There are so many reasons why this project was a success. Certainly, having the right team involved from the start was a critical factor. The team embraced a highly collaborative environment, working together to achieve UNH's vision. In addition, having early involvement by PC Construction enhanced the design and constructability review process and allowed the team to discover conflicts between proposed design and actual constructible conditions. Time and money was saved through this collaboration and cemented the team's synergy throughout the project.
And, of course, the top-notch design epitomized the grandeur UNH sought out to achieve for their Wildcat Athletics program. Take in one game at Wildcat Stadium and you'll know exactly what we mean.
So, thank you to everyone who contributed to this incredible project. We are truly honored to have been your partner.