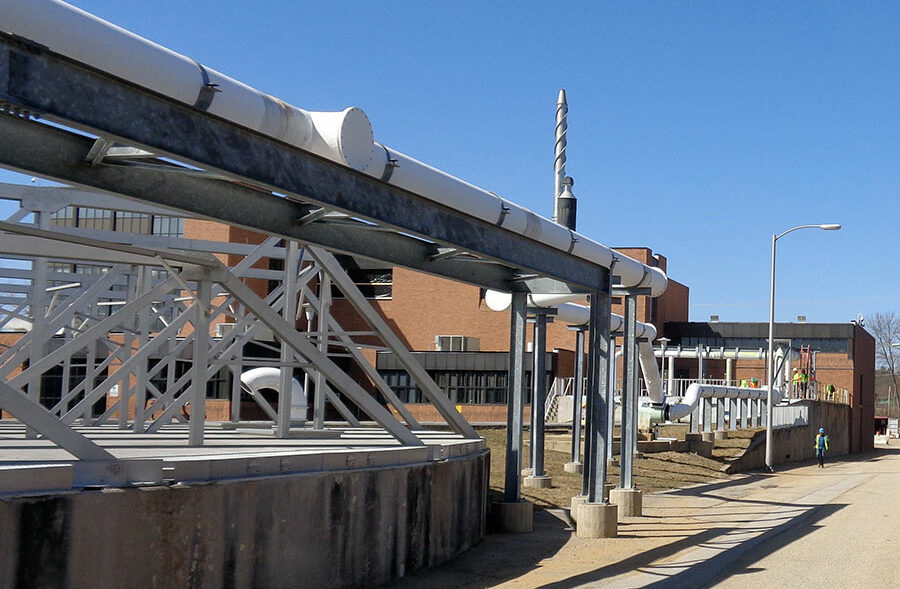 The Manchester Wastewater Treatment Facility Solids Train project, which began preliminary work in late January is now well underway in Manchester, New Hampshire. The $19.6 million project at northern New England's largest treatment plant includes complex upgrades and modifications to the continuous sludge wasting, sludge thickening, sludge mixing, dewatering, and dewatered cake storage processes. Ancillary upgrades include a new vactor truck receiving station, exterior odor control piping and supports, a mannich polymer unloading station, and an addition to the existing sludge and grit unloading area.
To achieve these upgrades, the sludge thickening process will be modified. Rather than a combined thickening of both primary and secondary sludge, each type of sludge will be thickened separately. To support this new process, PC will install centrifuges, pumps, conveyors, a cake storage silo, and process piping to create a new flow path through the existing plant.
While operations will continue to appear fairly regular on the outside of the facility, the interior will be a hub of activity, with the majority of areas receiving some level of upgrade or modification over the next two years. This requires very close coordination with plant staff, a true teamwork approach.
Stay tuned for project updates and milestones as this project progresses!