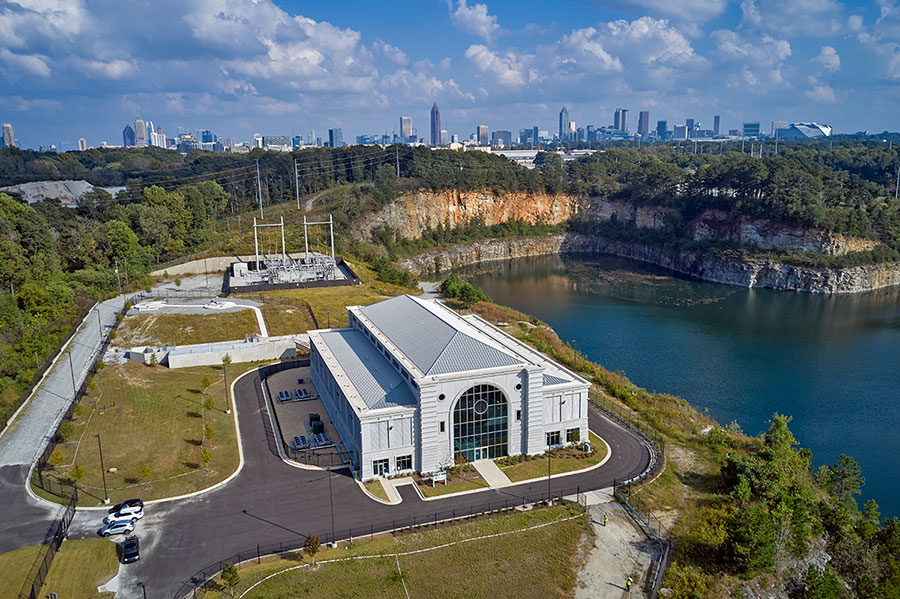 Many of you have followed the exciting Atlanta Water Supply Program project since we first broke ground in August 2015. From the arrival of the tunnel boring machine to its final breakthrough after a five-mile excursion under the City of Atlanta – we have enjoyed sharing every step of the journey that has helped Atlanta secure a water contingency plan for the first time in its history. And now, we are a little wistful but very proud to announce that the 30-day test is complete, bringing this project to a successful completion.
But we aren't leaving yet!
PC will begin work on an additional $50 million contract to add a 200-mgd river intake pump station and three vertical turbine pumps to the overall program. The new pump station will draw water out of the Chattahoochee and pump it directly into the tunnel system. The Chattahoochee WTP will also tie into the tunnel system during this 32-month project, completing the final component of the entire system. 
The initial $321 million CMAR contract included converting an existing 400-foot-deep rock quarry to a 2.4-billion-gallon water facility while digging, boring and installing a 5-mile, 10-foot diameter tunnel to connect the quarry facility to the Hemphill and Chattahoochee Water Treatment Plants. Two new pump stations will support the system and feature eight vertical turbine pumps and three submersible turbine pumps.
This extensive Program will increase the City's emergency raw water reserve from three days to more than 30 days while capturing community, environmental and cost benefits to ensure Atlanta's sustainability for the next 100 years.
Stay tuned as we get underway with the new project in the next few months!