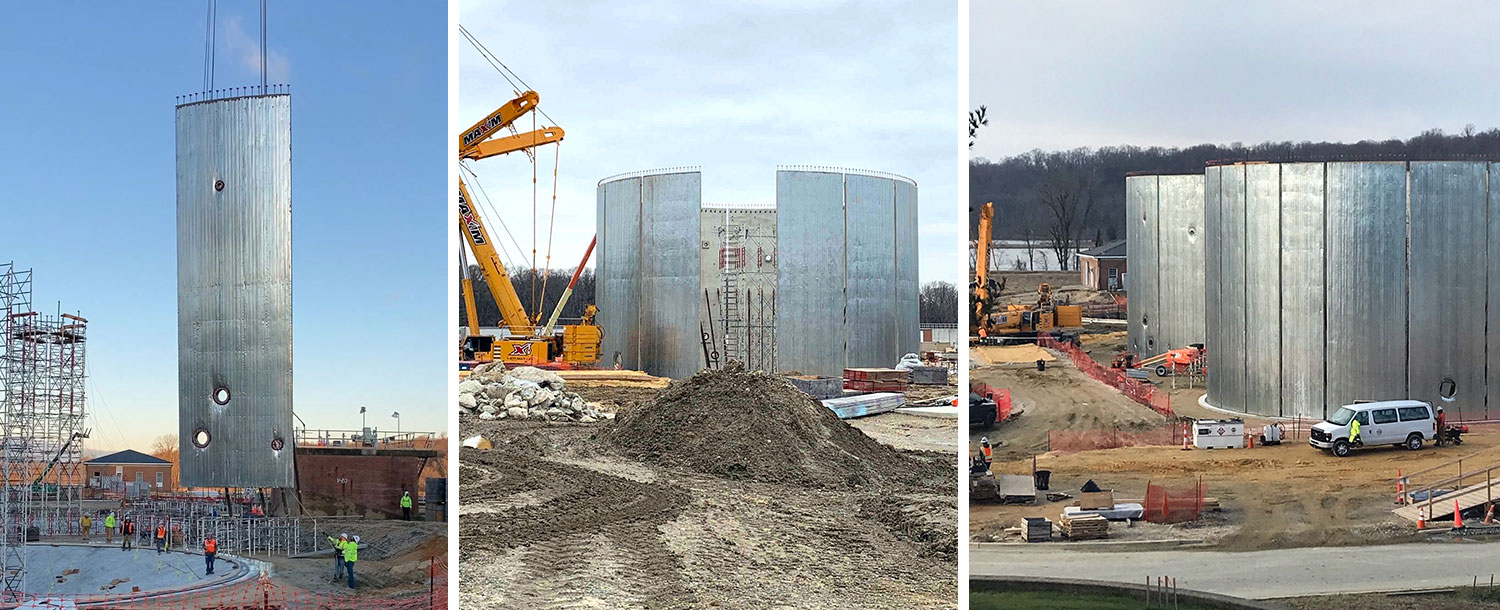 One of the key components of WSSC's new bio-energy project is the construction of two 1.5-million-gallon anaerobic digesters. As two of the earliest structures to be built on the project, there was a lot of excitement over the past few days as the tanks have started to take shape.
PC has partnered with DN Tanks to complete these circular prestressed concrete tanks. Each tank consists of 17 individual panels that are 50 feet tall and vary in width to create an approximately 78-foot-diameter tank. The largest panel weighed in at more than 30 tons.
The panels were cast on site in eight casting beds, four near each tank location. Once the casting was complete, each bed contained four or five stacked panels. Using a 500-ton crane, the panels were lifted from their beds and flown into place. Each tank took only two days to complete.
Now that the panels are in place, work can begin on the installation of the shoring and formwork to cast the digester domes. The tank joints still need to be infilled and the tanks wrapped with prestressing wire and coated with shotcrete. The tanks are expected to be fully constructed in Spring 2021.
The $271 million bio-energy project will use thermal hydrolysis process (THP) and anaerobic digestion to treat the biosolids and a sidestream process to treat the resulting effluent. The project is also designed to capture and clean the digester gas to feed back to the Washington Gas pipeline and/or to be used in the new CHP facility to generate electricity and steam to feed the THP process. The entire project is expected to be complete by the fall of 2024.