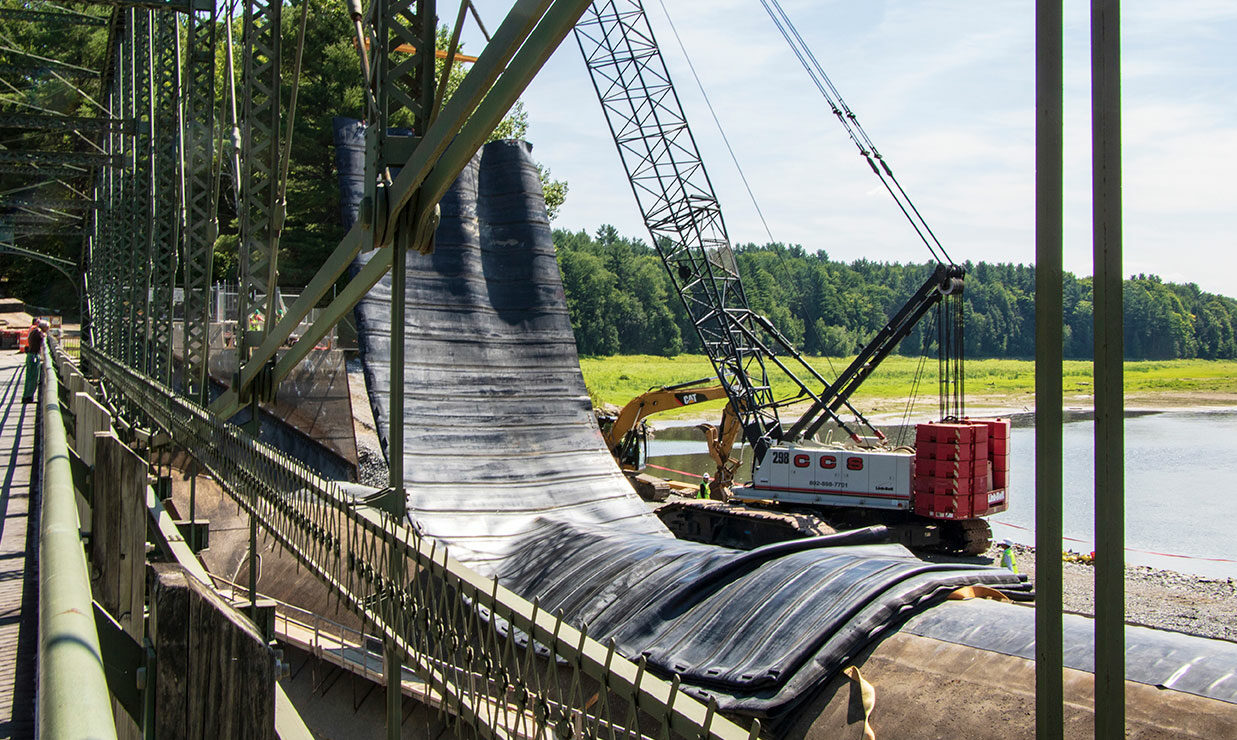 Last week, PC completed the replacement of the rubber dam bladder – the largest of its kind in the United States – at the Highgate Dam in Vermont. The original bladder, which was installed in 1992 by PC Construction, had reached the end of its lifespan and when time came for replacement, the Village of Swanton brought PC back to get the job done.
The new inflatable bladder, which was shipped from China, is 267 feet long and 57 feet wide, weighing a total of 47 tons. During installation, the bladder had to line up with the 576 existing anchor bolts on the dam's concrete surface. To ensure precise placement, the bladder was laid out flat to allow PC Construction to work with a surveyor to punch holes along the bladder's edge. It was then folded up for transport to the dam for final preparations.
Work began on July 1 with the construction of an access road to the river. Once the road was in place, crews removed the old bladder, donating the salvaged material to local farmers to be used as bedding under livestock.
After the new bladder was delivered to the site on July 29, it was unfolded and installed, bolt-by-bolt, until it was securely in place. PC completed the installation on August 13 and officially finished the project on August 24 after several rounds of testing.
Project partners included G.W. Tatro, CCS Crane Service, Barrett Trucking, HTE Engineering, H.L. Turner, and most importantly the Village of Swanton. They were an outstanding owner, partnering with PC at every opportunity.