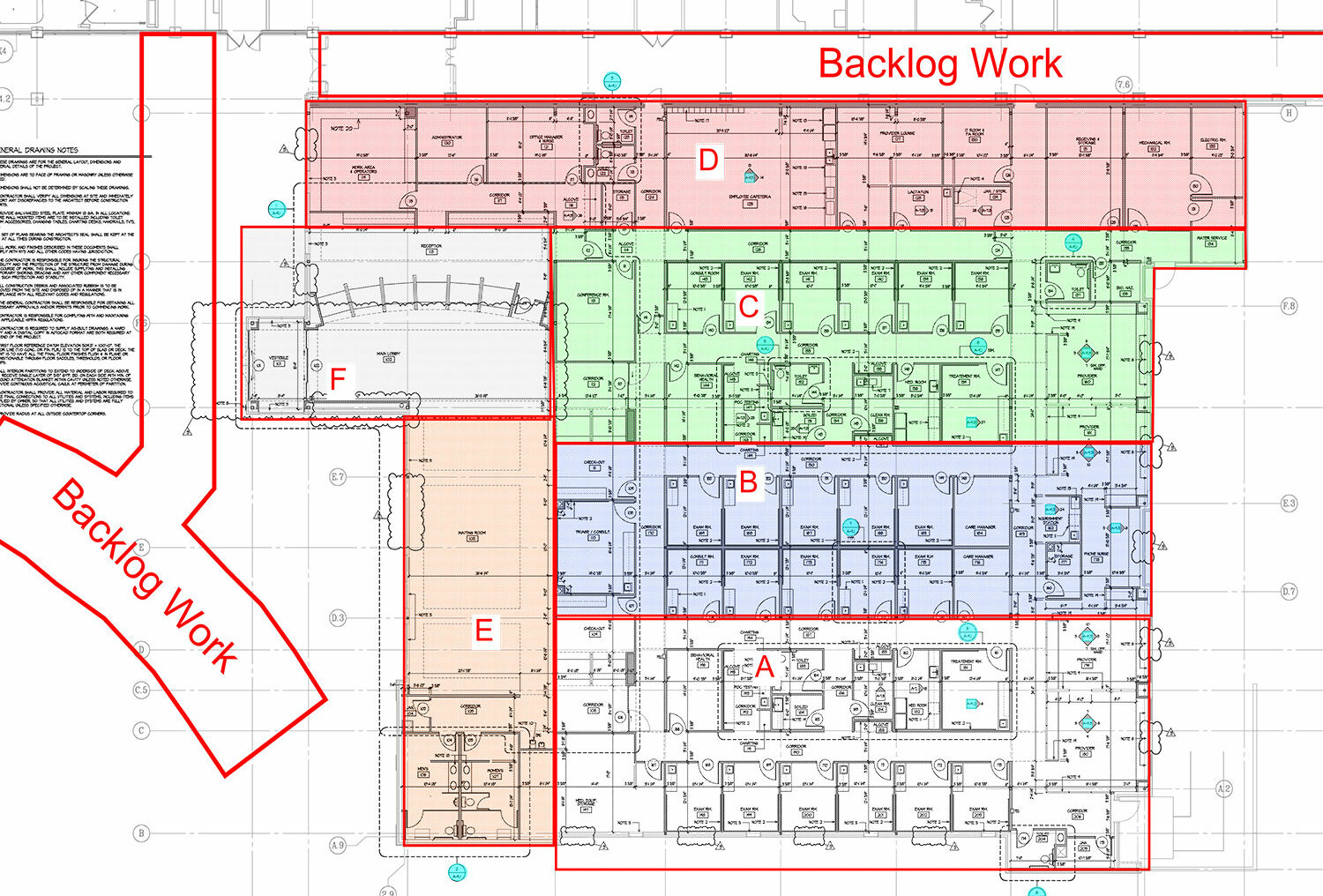 When the crew of a ship is sailing down a river, they tend to follow a path that has a steady safe flow while keeping an eye out to avoid rapids that may cause damage to the ship. The same is true for a Lean construction project's crew. The steady flowing river is a well thought out plan and the rapids are constraints that can disrupt the work. The HHHN Plattsburgh Family Health project in New York is on track to complete ahead of schedule because of the constant smooth flow created by the use of Lean tools and techniques.
From the onset of the project, the project team – including PC Construction and our trade partners – have been fully dedicated to Lean principles. They use pull planning to collaboratively create Phase Plans for each area and stage of the work, develop Weekly Work Plans based on the Phase Plans and hold Daily Huddles, all while identifying constraints that could prevent work from progressing. This has allowed the team to quickly identify if course corrections are needed.
Color-coded batch drawings were also leveraged on this project. During the pull plan sessions, the team broke the building into smaller working areas, otherwise known as batches. During the pull plan sessions, the work was pulled from one batch to another. The color-coded batch drawings are hung at the project so all team members can understand the planned flow of work.
The project team also used Building Information Modeling for MEP coordination. While not technically a Lean tool, BIM is integral to creating an efficient plan. BIM helps eliminate constraints that could disrupt the flow of work by finding those issues in the virtual world so they can be planned for or mitigated before construction even begins. On this project, BIM was also used to help with the prefabrication of the bathroom plumbing stands. Prefabbing off-site was safer and more productive, reduced the number of people and stored materials on site, and increased the overall speed and flow of the work, resulting in shaving weeks off the schedule.
Having everyone involved and every voice heard through the Lean process built trust and respect on this project, and you can feel it the second you walk onto the job site. They talk and act on a level different than what you see on most projects. For Lean to be a success, trust and respect needs to be a foundation for everything else. From there, the work becomes easier, and it's smooth sailing.