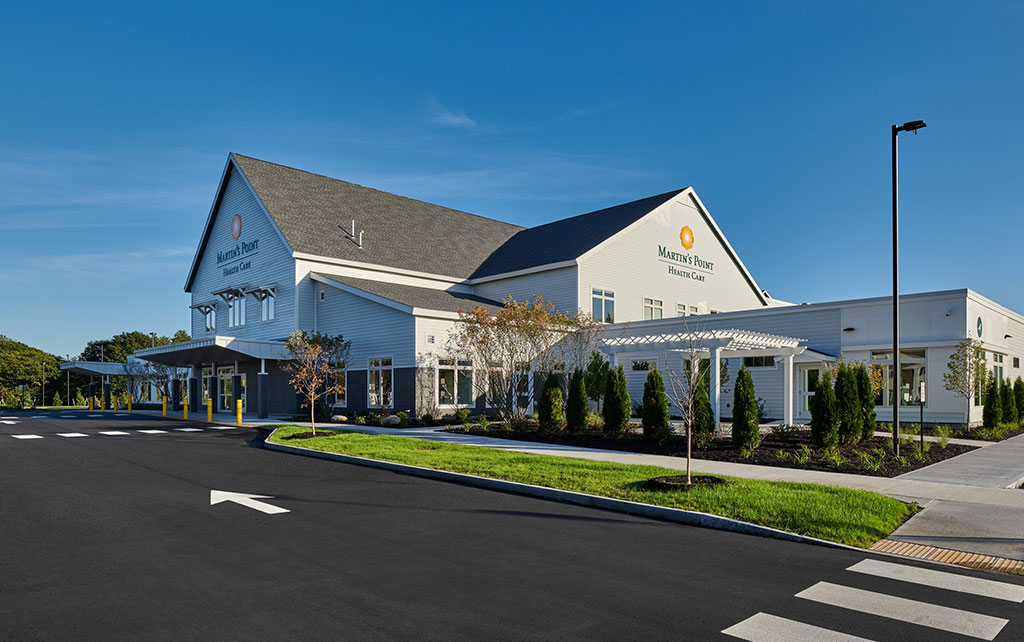 Portland, ME – PC Construction recently accepted a Best Builders Award from AGC Maine for the Brunswick Health Care Center, a new, state-of-the-art patient clinic for Martin's Point Health Care.
The new center consolidates Brunswick's two existing aging clinics at this new 54,000-square-foot facility to offer 63 exam rooms and 8 procedure rooms. The facility was designed with future growth in mind. The structural steel and concrete roof deck can accommodate an additional 20,000 square feet of space on the second level without structural modifications.
With the COVID-19 pandemic forever changing the way health care facilities operate, innovative design enhancements were made during the construction phase without significantly impacting schedule. A separate entrance was built to isolate potentially infectious patients and a suite of rooms were designed to be easily isolated from the rest of the facility by simply constructing temporary walls. In addition, several exam rooms were turned into negative air suites by adding dedicated exhaust fans with high-efficiency filters to further mitigate the spread of airborne pathogens.
"This project is a great example of how creativity and strong teamwork in design and construction can have a tremendous impact on a community," said PC President and CEO Jay Fayette. "The timing of the pandemic at the start of construction presented significant challenges that we leveraged into amazing opportunities. We're very grateful to our design partners, SMRT Architects and Sebago Technics, and to the owner, Martin's Point Health Care, for helping deliver a beautiful and nimble health care facility. And we thank Maine's Association of General Contractors for recognizing these efforts."
The project was completed in August 2021, on time and under budget.
The award was presented at AGC Maine's annual Build Maine Awards event, which honors the state's best construction projects from the previous year. Nominees are evaluated by a panel of judges representing the state's design, engineering, construction and owner communities, and criteria include safety, innovation, contribution to the community, environmental sensitivity, and demonstrated ability to meet the challenge of a difficult job.