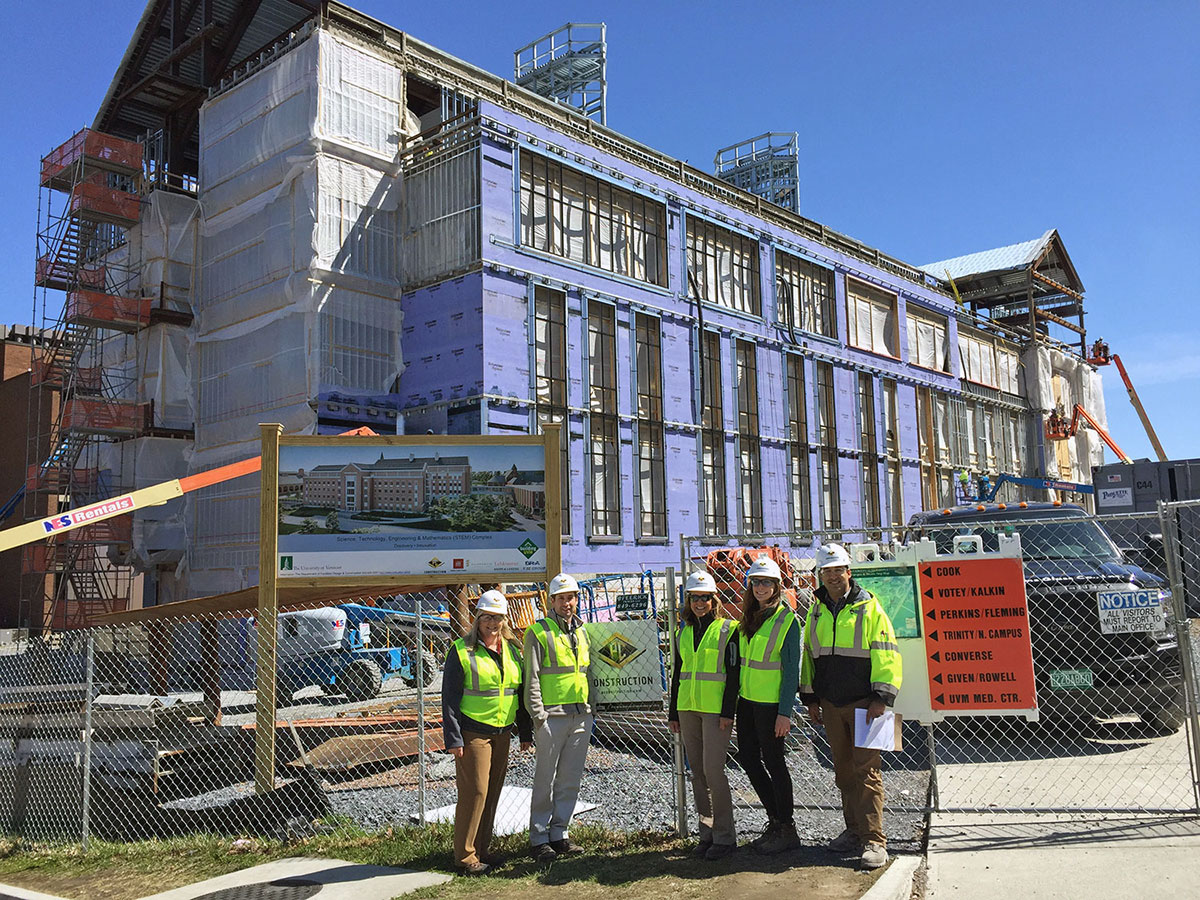 Recently, members of PC Construction's Business Development team toured the STEM (Science, Technology, Engineering and Mathematics) project at The University of Vermont. As a new employee-owner and a graduate of UVM's College of Engineering, I was excited to see the construction progress, and was not disappointed.
The STEM Initiative, valued at over $80 million, is the single largest capital project ever undertaken by the University. When completed, the laboratory building and classroom building will total 200,000 square feet.
Our tour began on the ground floor of the laboratory building, the six-story, teaching and research lab, where the team showed us some of the innovative tools and techniques they are using. Project Engineer Ravi Bidichandani showed us the project's detailed three-dimensional model, which was developed by PC Construction in collaboration with the project's subcontractors. Ravi explained that coordinating the project in 3D has enabled a smooth start to the installation of the building's MEP systems. In most of the research laboratories, the ductwork, conduit and piping will remain exposed as part the modern, industrial design – so a professional and organized installation is extremely important.
We also learned that the interior floors are polished concrete, and need to be protected during the construction. As part of PC Construction's Lean initiative, the team researched solutions and settled on a product new to the company – Skudo temporary surface protection. Skudo is two-layer system including an adhesive base coat and a protective mat covering that protects the concrete slab on deck. This system requires little maintenance, improves site safety and is more effective than other options such as plastic or cardboard, which can slide around from foot traffic.
At the penthouse, in addition to spectacular views of Lake Champlain, we found two massive air handlers each designed to manage the entire building, 75,000 cubic feet per minute. Each unit weighs 150,000 pounds and is made up of nine individual sections. The massive equipment was set in place with only inches of clearance between structural steel. The air-handling units are an integral part to the research and programming that will take place in this facility.
UVM has set up a live web cam so people can watch the development of STEM.  I know that I will watch with great interest and look forward to our next site visit.