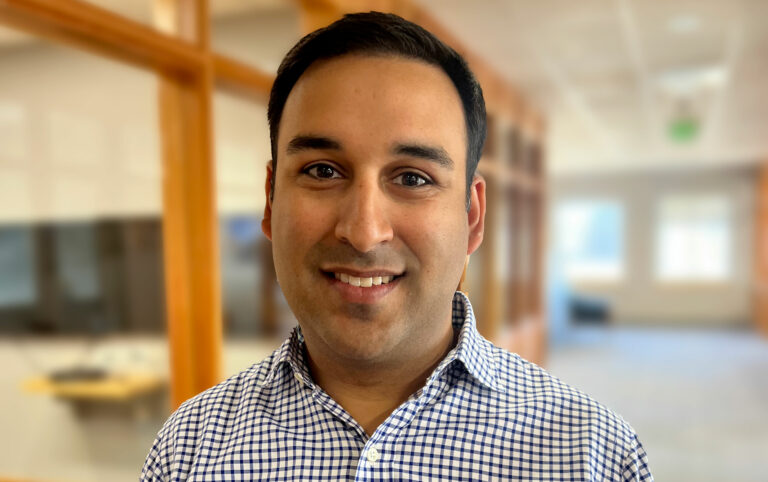 Last Thursday, the PC team gathered in South Burlington to cheer on Ravi Bidichandani, PC's corporate director of business development, as he accepted his Rising Star Award from Vermont Business Magazine. Ravi is one of a very select group of recipients selected from 130 nominations, all under the age of 40. The award recognizes outstanding emerging leaders for their commitment to business growth, professional excellence and involvement in their communities.
Ravi joined PC in 2013 as a technical writer dedicated to creating winning proposals to secure new projects for the company. His aptitude for understanding the intricacies of our complex work resulted in an interest in the construction side of the business. Within three years, Ravi pursued his engineering roots and transitioned to begin PC's $80 million UVM STEM Complex project as a project engineer, and was later promoted to senior project engineer. He excelled, diving into the complex mechanical, electrical and plumbing systems designed specifically for laboratory facilities. During construction, Ravi and his project teammates partnered with UVM to provide learning opportunities for engineering students, bridging classroom experience with real-world applications.
Upon completion of the project, Ravi moved back to the office to lead the business development department. Ravi and his team produce best-in-class proposals and interviews to win strategic new work for the company. To date in 2023, he has led the pursuit of $2 billion of projects.
Ravi is also a key member of PC's Innovation Task Force and a formal mentor to a young PC engineer. He also lends his expertise outside of PC's walls as a member of the White+Burke Vermont Development Conference planning committee.
I have had the pleasure of working closely with Ravi over the past 10 years and have watched him learn and grow, taking on every challenge along the way. Congratulations, Ravi – we are looking forward to seeing all you accomplish in the years to come!