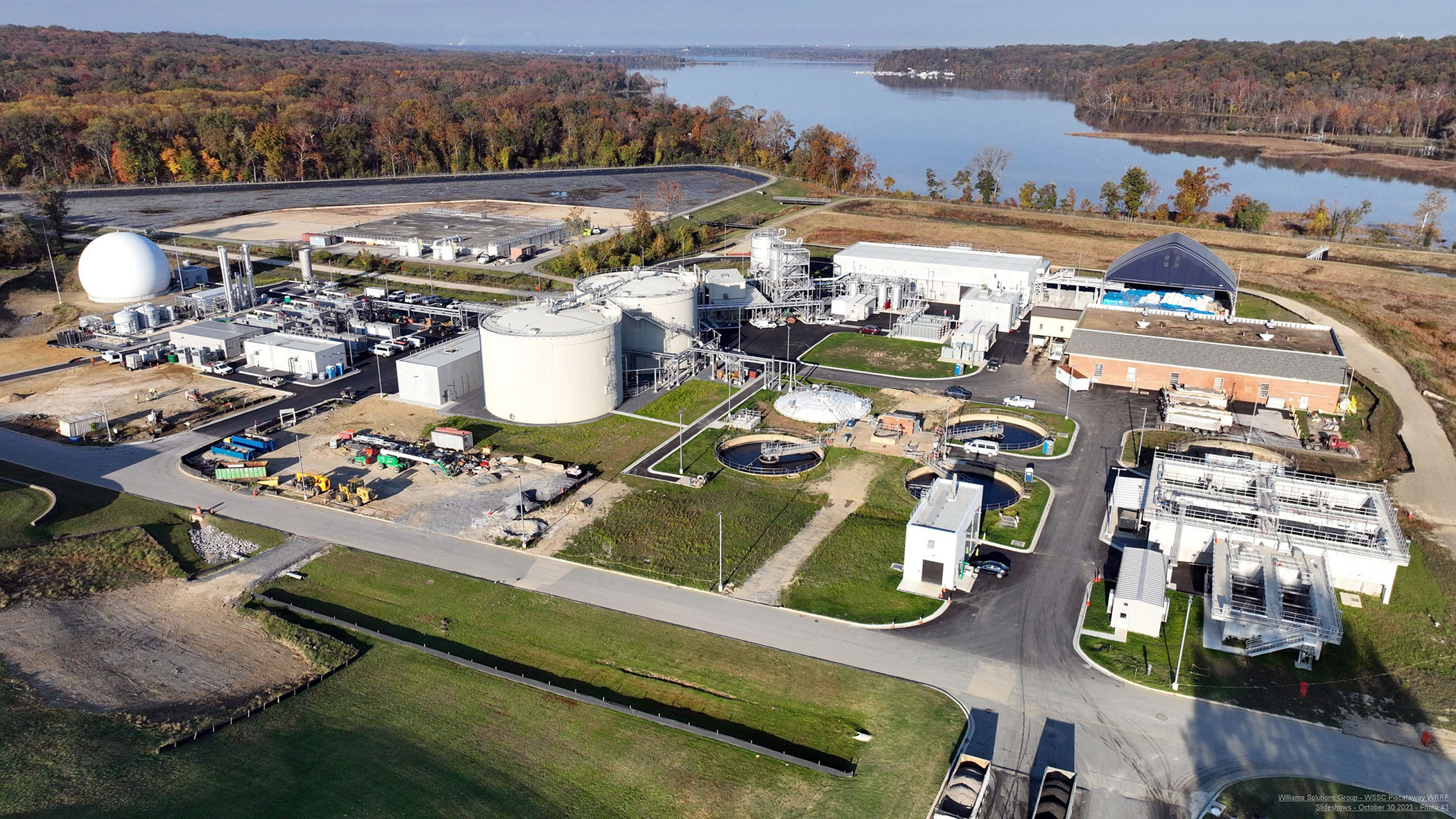 After three and a half years, the bioenergy project at WSSC Water's Piscataway WRRF is nearing the completion of construction. A flurry of activity is taking place to put the final pieces in place, including the combined heat and power (CHP) system, gas cleaning system, digested sludge storage tank cover and the cake receiving building.
The CHP system consists of three 1.5 MW engine generators and three 5,000 lb/hr steam boilers and serves multiple purposes for the project. First, the engines will generate enough power to run the entire bioenergy project and will serve as a backup power source for the entire Piscataway WRRF if there is a loss of power due to weather or other cause. The engines will also provide heat to the Medium Temperature Hot Water (MTHW) loop that runs throughout the project and supports the sidestream treatment project. The boilers will recover heat from the engines to generate steam, which will be used to supply the Cambi thermal hydrolysis process (THP).
The gas cleaning system will take the methane generated from the two 1.5-million-gallon anaerobic digesters and remove impurities, resulting in renewable natural gas that can be fed into Washington Gas' pipeline and used in Montgomery County buses.
The cake receiving facility is a key component of this regional facility. WSSC will haul biosolids from their four other treatment facilities and, as the name implies, the cake receiving facility is where trucks will deliver the biosolids material. The cake receiving facility consists of two large storage bins, two hoppers that hold the solids as they are transferred from the trucks and several pumps that transfer the biosolids. The pre-engineered metal building encloses the hoppers to mitigate any potential odors. As trucks approach the building, a large door opens, allowing the truck to dump material into the hopper. Once the truck is empty, the large door closes.
The digested sludge storage tank (DSST) is a converted 55-foot gravity thickening tank that was no longer needed. A cover consisting of 24 steel "wedges" was assembled, welded and painted on site. The assembled cover was then lifted and placed on the new digested sludge storage tank. The DSST provides additional storage for sludge before it is sent to the post-dewatering belt filter presses. This additional storage provides the plant operators flexibility in managing the overall flow of the plant.
This project has been exciting from the start and now, as major construction activities start to wind down, we'll get to see all the new processes in action. Stay tuned in the coming months for updates on the start-up of this state-of-the-art facility for WSSC Water.