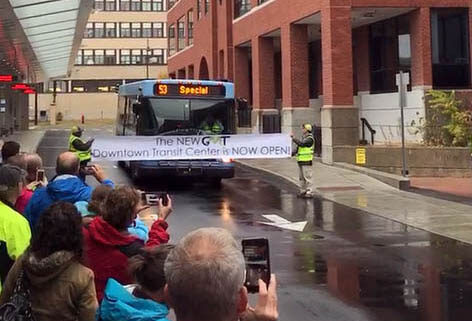 Yesterday was a big day for the City of Burlington as a Green Mountain Transit bus literally drove through the ribbon to officially open the new Downtown Transit Center in Vermont. PC Construction began construction of the facility last May.
This new 10,250-square-foot facility will improve the public transportation experience by providing an enclosed ticket building, a bus tracking system allowing riders to follow bus travel in real time, a climate-controlled indoor waiting area and rest rooms. A large canopy extends the entire block, accommodating 10 buses and providing passengers with exterior shelter from weather conditions with windscreens and heaters. Drivers will also reap the benefits of the new facility with a secure break room that includes a kitchen, quiet space and rest rooms for between-shift accommodations.
The new transit center eliminates the need for buses to cross the heavily-populated Church Street crossing, allowing for faster, more accurate travel times. It also eliminates disturbance to the busy Cherry Street traffic and parking garage entrances.
I am excited that this day is finally here for Burlington – this project will certainly have a long-lasting impact on the community.