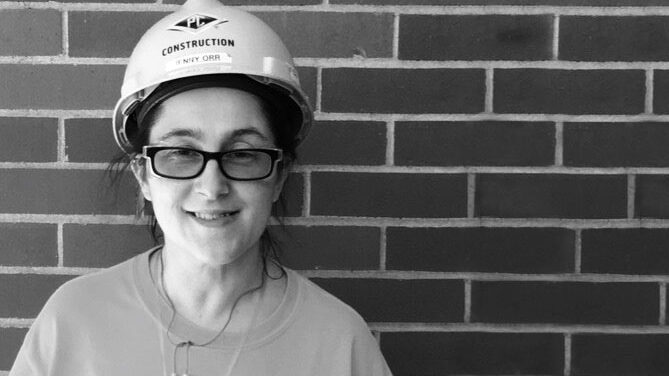 About Jenny
Nickname: Pitbull – I'm little and feisty!
Adjectives that describe me: Funny, crazy, positive
Hobby: Crafting
Favorite dessert: Cheesecake – any kind! But my favorite is strawberry.
Her Story
After working in the cleaning industry for several years, Jenny decided it was time for a change – a BIG change. That life decision brought her to PC Construction where she was hired as a laborer and truck driver.
"When I was little and visited my grandparents, one of my aunts taught me how to use tools and I've been fascinated with construction since," said Jenny. "I like to work with my hands and am always excited to learn something new."
She talks fondly of her parents and their reaction when she began her career in construction. "My parents were so proud of me and bragged to everyone they knew. I was the first female in our family to work in construction and that was a big deal!"
Using her skills and her drive for excellence, Jenny made a difference from day one. In fact, one of the most defining moments of her career occurred in her early days at PC. She was put in charge to lead a challenging manufacturing tool relocation. Under her direction, the work was completed safely and successfully. To this day, that accomplishment remains a tremendous source of pride.
Jenny is now coming up on her 6-year PC anniversary, a day she says is extra special because it falls on St. Patrick's Day. She is still working with the same team at the same project site for a large manufacturing facility in Vermont. On any given day, Jenny finds herself helping upgrade a cleanroom, renovate a laboratory, install a new tool, or modify utilities. "It is day-to-day, always changing. We build racks, put up temporary walls, take tools off trucks and move them into a cleanroom. I like the variety in the work. But what I enjoy most is working with my team. It is fun. I enjoy going to work every day."
Her advice to other women contemplating a career in construction? "Go for it, and don't be afraid. My first week, I had to go up a six-foot ladder, then a 12-foot ladder while wearing a harness. Needless to say, I overcame my fear of ladders very quickly! But seriously, construction is so rewarding when you give it all you've got!"