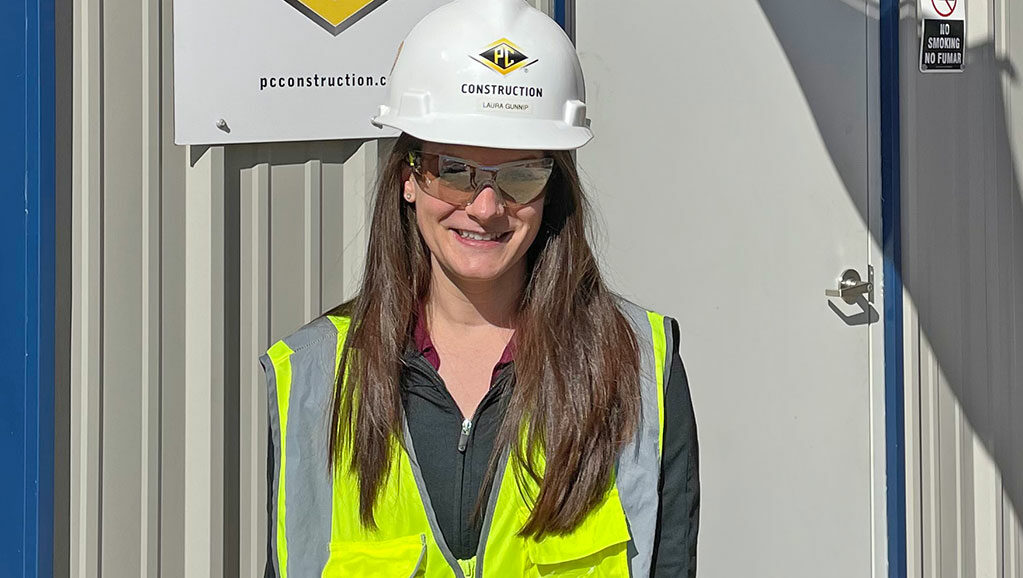 About Laura
My hobby: Cooking
Adjectives that describe me: Resourceful, honest, efficient
Little known fact about me: My husband and I want to live off the grid when we retire (except for internet!)
Favorite food: Chili
Her Story
Construction has always been a part of Laura's life. Her family was active in the industry and she saw first-hand that a career in construction could provide a good life. Her own interests in building and drafting further cemented a career in the industry. She attended Vermont Technical College and graduated with a bachelor's degree in architectural engineering.
As a senior project engineer at PC, Laura instantly took to the water and wastewater market, collaborating with project team members to deliver important infrastructure improvement projects in the Mid-Atlantic.
"It is so satisfying knowing that you are helping to improve your community with such an essential part of life – clean water," said Laura. And that is exactly what she is doing on her current project, the $271 million Piscataway WRRF Bio-Energy Project. This extensive design-build project will enable WSSC Water to use thermal hydrolysis process (THP) and anaerobic digestion to treat the facility's biosolids and a sidestream process to treat the resulting effluent. The project is also designed to capture and clean the digester gas to feed back to the Washington Gas pipeline and/or to be used in the new CHP facility to generate electricity and steam to feed the THP process.
While very technical in nature, Laura enjoys the challenge and the opportunity to work with a team of creative and innovative problem solvers to ensure every aspect of this project goes smoothly.
"Seeing things come together at the end of a project is what I enjoy most. That start-to-finish perspective, where you can stand back at the end of the day and say you helped build something so significant is especially gratifying."
That perspective is just one of the things she hopes carries down to her daughter. "I do my best every day because I want her to learn from that example and grow up to be a successful and independent woman."
When asked what advice she would give women interested in the construction industry, she stresses the importance of getting involved and learning all areas of the business. "Don't be afraid – get into it and learn as much as you can. Get out in the field and be involved with all parts of the construction process – civil, concrete, mechanical, start-up, commissioning, and closeout. Be ready for anything and everything because you never know what opportunities are right around the corner."
Her biggest career accomplishment is successfully growing her career and her family at the same time, an obstacle that many women in the industry define as a challenge.
"I want to be an encouragement to all woman that if you work hard and are dedicated, you can have a successful construction career and a family without impacting one or the other. It might be a little bumpy along the way, but you will eventually find a rhythm and a system that works for you, your family, and your job."